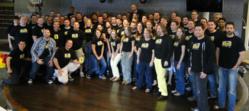 Dyn is celebrating the 1 year "birthday" of their re-launched website with a special 1 day only discount
Manchester, NH (PRWEB) August 01, 2012
On Friday, August 3rd, those looking to buy specific DNS, email delivery and domain registration services can get 24% off their new purchases by using the code 'birthday' upon checkout. This 24-hour discount applies to new purchases only and not for any enterprise services.
Some of Dyn's best-selling services that are available for discount:
° Dyn Standard DNS: An all-in-one managed DNS solution for basic needs
° Dyn DNS Pro: Perfect for remote access to computers, DVRs and webcams
° Dyn Standard SMTP: Simple SMTP for low-volume email senders
° Email Backup MX: Backup queuing for when a mailserver goes down
° Domain Registration: Get your domains or transfer them to Dyn
The discount will start on Thursday, August 2nd at 6 PM Eastern Standard Time and end at 11:59 PM Eastern Standard Time on Friday, August 3rd to accommodate users around the world.
ABOUT DYN
Founded in 1998, Dyn is the worldwide Internet Infrastructure-as-a-Service (IaaS) leader, powering Managed DNS and Email Delivery for more than four million enterprise, small business and personal users. With nearly 20 data centers around the world and industry-leading uptime for over 13 years, Dyn's commitment to customer relationships and engineering excellence shines every day. Uptime is the Bottom Line.