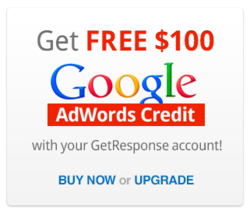 Our free AdWords credits give customers a chance to discover the powerful combination of GetResponse plus Google AdWords.
Wilmington DE (PRWEB) August 03, 2012
GetResponse, a leading email marketing service provider, today announced they have joined forces with Google AdWords to help email marketers increase their online presence and boost their brand-promotion programs.
As of today with every account purchase and upgrade, GetResponse is giving away free $100 Google Credits as a bonus incentive.
"AdWords is a great tool for testing a new campaign idea or for ramping-up a campaign that's a proven winner," said Simon Grabowski, GetResponse founder and CEO. "Our free advertising credits give customers a chance to discover the powerful combination of GetResponse plus Google AdWords."
About Google AdWords
AdWords is a perfect tool for targeted promotion of brands and products online. With pay-per-click Google sponsored ads, GetResponse users can now increase their brand exposure and address those Google users who are potentially most interested in their products. SMBs using GetResponse can now:

Create laser-focused campaigns targeted to those who are most interested.
Target the right user with the right content.
Reach more potential customers.
Pinpoint geographical area of business, time of day, ad position, and more.
Control their spending limits.
Get fast feedback then tweak campaigns to maximize performance.
The Google AdWords credit — a promotional bonus with upgrades and new accounts — lets email marketers kick-start their targeted online campaigns.
"SMBs and email marketers often face constraints of limited audience and markets," said Simon Grabowski. "We wanted to help them reach beyond their limited circle of connections and gain new targeted and engaged audiences. With Google sponsored ads they will be able to quickly expand their subscriber lists with new highly interested prospects and customers."
About the offer
Every GetResponse user who purchases an account or upgrades existing account receives a $100 promotional coupon to redeem inside their Google AdWords account. The offer is time-sensitive and limited-supply.
For complete details about the offer, follow this link:
http://www.getresponse.com/features/google-adwords.html
About GetResponse
GetResponse, the World's Easiest Email Marketing, is designed to increase email marketing ROI faster than any other medium for small businesses and enterprise customers.
As the flagship product of Implix and a leading email marketing platform for the past 12 years, GetResponse collaborates with major ISPs and industry associations to ensure the best in email delivery technology, permission-based marketing and best practices, achieving average 99.3% deliverability rate.
GetResponse has grown to over 250,000 active users from 183 countries, delivering 10 billion permission-based emails per year.
Learn more at http://www.getresponse.com.