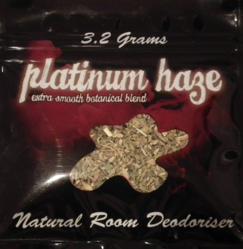 Nothing can compare to Platinum Haze. It's simply, Incredible
Melbourne, Victoria, Australia (PRWEB) August 01, 2012
Platinum Haze, manufactured by US Company, Platinum Botanicals, have now officially launched their product in Australia. While there are many competing companies offering similar products, Platinum Haze have devised a blend which is not only 100% legal, but it is also 100% effective.
After a month of product feedback, Platinum Botanicals have launched their product with enormous success. With some major brands already added to their product list in the USA, this product has out sold every other commercial blend available in its first two weeks on the market.
Owner of Fraser Coast Party Pills, in Maryborough, Queensland has said, "Since stocking this product, the other brands we stock have fallen by the wayside, and we have increased profit by more than 300% in only 2 weeks. This product is amazing, legal and effective. Nothing can compare to Platinum Haze. It's simply, Incredible." If this is anything to go by, Platinum Haze will be around for many months, and possibly years to come.
By using herbal extracts and immensely complex methods to produce the blend, Platinum Botanicals have struck gold with this product. A representative of the company said, "It take 3 days to create a batch ready for sale, whereas it can take only hours using the old methods. We take pride and time when we produce our products. If our retailers and end users of this product are happy, so are we".
In addition to this incredible herbal incense blend, Platinum Botanicals have almost completed testing on a new range. Party Supplements. 100% legal, DMAA free party pills will be made available to the public by the end of August, and an amazing party powder will be launched just in time for New Year's Eve.
With harm reduction being the key in this industry, Platinum Botanicals have their competition shaking in their boots. Not only do they produce safe and effective products for the Australian market, the products are also incredible.
If one is to choose a safe and effective product to relax with, Platinum Haze Extra Smooth Botanical Blend is the only choice they need to make.