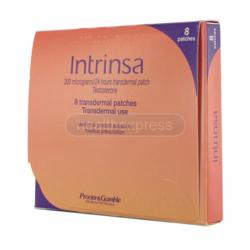 Intrinsa patches will be removed from sale in September.
London, UK (PRWEB UK) 2 August 2012
Following a statement from the European Medicines Agency (EMA), HealthExpress, the UK's leading provider of online healthcare, has announced that Intrinsa patches will be removed from sale in September. Intrinsa patches are the only prescription treatment for female sexual dysfunction (FSD) currently available. Though they are clinically proven to be safe and effective, the marketing authorisation holder for the patches, Warner Chilcott UK Ltd, has voluntarily withdrawn the marketing authorisation, citing commercial reasons.
In response to this decision, HealthExpress will cease prescribing Intrinsa in September 2012. Any woman who is currently using this treatment or wishes to complete a consultation will still be able to do so throughout August. Intrinsa is designed to help treat female sexual dysfunction in women who have had a hysterectomy; it is not intended to be used by women who are experiencing low libido but have not had a hysterectomy.
HealthExpress offers a range of treatments for a variety of health conditions and lifestyle problems using a completely secure ordering process that includes a free online consultation. Though female dysfunction treatment will no longer be available, other women's health treatments will still be available, including various hormonal contraceptives and medications for thrush and cystitis.
HealthExpress Company Information
HealthExpress is an online clinic specialising in providing treatment, support and advice for common embarrassing medical conditions and lifestyle problems. Launched in 2002, they provide their patients with a discreet, confidential and secure way to order prescription medication online by completing a free online consultation with a registered doctor.
For more details, visit the website at http://www.healthexpress.co.uk/ or contact HealthExpress on 020 7084 7594 or via email.
HealthExpress is a brand name of Hexpress Healthcare Ltd, 138 – 140 Mitcham Road, London SW17 9NH