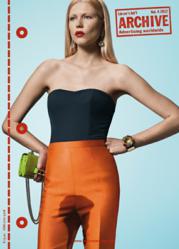 London; UK (PRWEB UK) 3 August 2012
Advertising bible Luerzer's Archive, has let its Facebook fans decide what should go on its latest cover for the first time. The bi-monthly archive of the best international advertising graphic design is famous for its iconic and often edgy cover choices.
From a selection of 5 cover options, over 50% of those who took part voted for Harvey Nichols' controversial campaign for its summer sale, created by DDB UK. The campaign features models striking generic poses wearing this season's latest fashions, however each is sporting a distinctive wet patch. The strap line reads, "The Harvey Nichols Sale. Try to contain your excitement". Some publications have resorted to cropping the bottom of the image to avoid offending readers.
Publisher and Editor-in-Chief Michael Weinzettl was impressed by the response, with almost 2500 people taking part: "Choosing what makes the cover of Lürzer's Archive has always been a real perk of the job for me, and it seems that plenty of our Facebook fans are just as passionate about what makes the cut."
Issue 4/2012 featuring this cover will be on the newsstand from. 20 August Find out more about the competition: http://www.luerzersarchive.com/content/show/id/53446