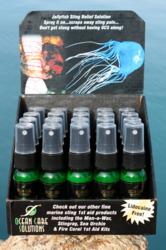 Stung in the face by a Lion's Mane last week in Dublin Ireland, I used your OCS sting relief spray and within an hour the pain was gone!
Ocean City, NJ (PRWEB) August 03, 2012
Ocean Care Solutions, specializing in State of the Art Marine Life First Aid Kits and jellyfish sting relief solutions, works in concert with U.S., Asian and European swimming associations along with world class competitors to test and provide the latest, most comprehensively effective sting relief aid possible to keep participants in the water. Which began the journey that brought Ocean Care Solutions and Bruckner Chase together.
In 2010, Chase embarked on a 25-mile solo swim to connect Santa Cruz to Monterey while also connecting those on land with the waters of Monterey Bay. Those twenty-five miles became an epic fourteen-hour journey during which Bruckner encountered massive jellyfish blooms, huge pods of dolphins, blue whales, white-capped swells; witnessed the setting moon over the sea and the sunrise over the mountains. The swim was a test of physical and emotional fortitude for Chase which became a calling to educate the global society about earth's oceans.
Soon after, with intense national interest, Chase formed the non-profit company, Bruckner Chase Ocean Positive, Inc. (http://oceanpositive.org/projects.html) with a global vision and mission, "to positively impact how we feel, think and act towards our oceans." The goal is to utilize extreme ocean endurance adventures and exciting aquatic initiatives to bring discovery and personal connection to earth's oceans. Chase followed with an historic solo long-distance swim from Aunu'u Island to Pago Pago Harbor in American Samoa which forever joined the swimmer to the community through a Matai title, Uila o le Sami, bestowed by the island of Aunu'u, along with his wife Michelle, developed the Bruckner Chase Toa o le TaiÔ youth ocean heroes program to improve the ocean swimming proficiency where, surprisingly, there are an alarming number of regional drownings as well as teach conservation awareness. For their efforts, the American Samoa Department of Education created a groundbreaking open water swimming class at Samoana High School highlighting ocean swimming and sciences.
In 2012, Bruckner and his wife Michelle, moving their initiatives to a larger global scale, developed a unique outreach and funding campaign called the Legion of Ocean Heroes. The L.O.H. (http://www.brucknerchase.com/Legion_of_Ocean_Heroes.html) is comprised of patrons who help support and fund Chase in aiding under served communities in American Samoa in addition to other global programs. "Patronage of the L.O.H. allows me the opportunity to reach out to poor communities in American Samoa , serve global programs like Special Olympics or help with initiatives by small groups in the US or abroad," said Chase. At the end of 2011 the couple was awarded a prestigious National Marine Sanctuary Foundation Hollings Grant for their 2012 expedition and film project, 2 Samoas/1 Ocean that includes regional swims highlighting the unique historical and cultural connection between American Samoa and Western Samoa.
Ocean Care Solutions continues to develop and perfect their trademark jellyfish sting relief formula as well as a Portuguese Man o War, Stingray, Sea Urchin and Fire Coral First Aid sting kits. "The more we became involved with field tests, the more we learned how to address marine sting first aid," according to Kevin Freeman, CEO of Ocean Care Solutions. "We owe a great deal of our marine sting understanding to the open water swimming community, Lifeguard units from around the country and our own willingness to absorb self inflicted jelly stings to know our product is effective," says Freeman. "Our company would not exist if it weren't for the support of marine biologists, toxic emergency medical professionals and medical and scientific marine sting research journals dating back to 1984. But in the end, it was our association with the open water swimming community that guided us to find the safest and, we believe, most effective jellyfish sting first aid product," continued Freeman.
"We knew we needed to be part of Bruckner's vision right away. We have known about Bruckner and his legendary swims for years so we are very excited to have a supporting role his Ocean Positive and L.O.H. organizations, continued Freeman. One major reason why Ocean Care Solutions marine sting products have become so necessary is because, quite simply, more people are recreating by and swimming in the oceans up and down the East Coast, West Coast and Gulf Coast regions while, at the same time, a substantial number of stinging creatures are swimming or being blown towards shore, creating an impact zone for the unwary swimmer. While the majority of beach and ocean goers don't get stung most of the time, those that do have an unfortunate run in with a marine stinger never forget the experience. And because the sport of open water swimming is exploding like no other, these encounters are growing year by year.
While jellyfish and marine stings should not pose a problem for the competitors in the 2012 Olympics, Ocean Care Solutions, Inc. products are becoming more of an integral part in providing marine sting first aid for world class swimmers like Bruckner Chase.