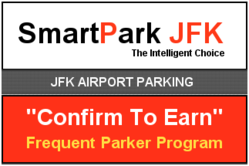 Our goal is to make our parking program, "Confirm To Earn", synonymous with the term Frequent Parker Program
South Ozone Park, Queens, New York (PRWEB) August 01, 2012
SmartPark JFK, the fast growing off-site JFK Airport Parking Facility, now offers their "Confirm to Earn" Frequent Parker Loyalty Program through the newly acquired domain name, FrequentParkerProgram.com.
"Our goal is to make our parking program, "Confirm To Earn", synonymous with the term Frequent Parker Program. Acquiring this domain allows us to accomplish that." says Adam Smith, President of SmartPark JFK.
SmartPark JFK appears to be taking the initiative for the customer and frequent traveler. The parking company is now proactively GIVING away free days. They have created an automated loyalty program system for customer convenience and satisfaction. You can park plus you can earn free days. Customers don't have to ask for free days because they will receive them automatically.
SmartPark JFK President, Adam Smith said, "Innovation continues to drive customers' savings opportunities in the travel industry and SmartPark JFK is clearly a market leader. Our new and current customers can surely benefit from SmartPark JFK's Frequent Parker Program and technology that offers our customers a more valuable JFK parking and savings experience".
The "Confirm to Earn" frequent parker loyalty program is a robust one. With their automated system, customers no longer need to carry a frequent parker card, Key FOB, or have the inconvenience of asking for free days they have earned at checkout. Free days are given automatically and customers can control when and how to apply their free days. They have the option to apply the free day to any future reservation date or spread out free days over multiple future reservations. SmartPark JFK is the pioneer of this kind of Frequent Parker Loyalty Program.
"Customer loyalty is of the utmost importance for SmartPark JFK and we are dedicated to ensure every customer has a positive experience. By earning a customer initially and then giving them free future parking days affords us the opportunity to satisfy our customers' needs. We focus on one customer at a time." Smith also adds, "The company is able to offer rewards to loyal customers with little or no effort on their part. This is a feature that customers won't find anywhere else. Our main focus every day is to keep our customer as a #1 priority."
The acquisition will allow SmartPark JFK's current customers to place reservations at their main website(smartparkjfk.com), while FrequentParkerProgram.com will position itself to become an informational and educational portal of their "Confirm to Earn" Frequent Parker program.