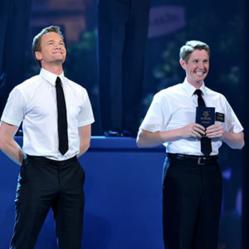 Denver, CO (PRWEB) August 01, 2012
You can't always tell a book by its cover. Take The Book of Mormon for example. Yes it's about religion, but it's also racy and risqué. Yes it's sweet, but it's also scandalous. And sure it's comforting, but it's also highly controversial. But what else would you expect from South Park creators Trey Parker and Matt Stone?
Not only did this outrageously offbeat Broadway musical slash comedy take home nine Tony Awards last year, including Best Musical, it continues to play to packed houses as it attracts audiences by the score. In addition to continued performances at Broadway's Eugene O'Neill Theatre in New York, shows at Denver, Colorado's Ellie Caulkins Opera House are scheduled to start August 14, 2012 and run through early September, followed by performances at the Pantages Theatre in Los Angeles, California.
"We still have hundreds of great seats now available at an exclusive discount on our site," said BuyAnySeat.com manager, Felina Martinez. "Customers can save as much as $150.00 at checkout in addition to our already discounted prices."
"To access the exclusive discount we now have available, customers can go to BuyAnySeat.com and click on The Book of Mormon link on the homepage – then select their tickets and type "VOC2012" in the discount code box at checkout," said Martinez.
As the story goes, two young Salt Lake City men get posted to Uganda as missionaries to fulfill their religious duties as members of the Church of Jesus Christ of Latter-day Saints. What happens to them in poor, hungry, AIDS-plagued Africa is...well, R-rated.
To some reviewers, the musical is at once revolutionary and classic, hilarious and humane, funny and obscene. Other critics have called it blasphemous, scurrilous and more foul-mouthed than David Mamet on a blue streak – yet with a heart and soul as pure and pristine as a Rodgers and Hammerstein show.
To shop for cheap tickets to this strangely contradictory but particularly popular musical comedy, be sure to visit BuyAnySeat.com.
About BuyAnySeat.com: An online ticket retailer, BuyAnySeat.com connects sports, theater and other live entertainment fans to an extensive worldwide network of ticket. The site's simplified listings and navigational tools enable shoppers to easily locate, compare and purchase tickets to virtually all advertised live entertainment venues worldwide. The site, which is PCI-compliant and Norton Secured, also provides customers with a complete Worry-Free Guarantee on all ticket purchases. Based in Denver, Colorado, BuyAnySeat.com is a subsidiary of Denver Media Holdings. For more information, please visit http://buyanyseat.com. BuyAnySeat.com is not is not associated with The Book of Mormon.