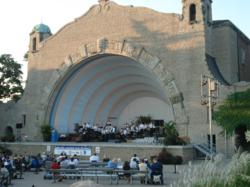 Toledo, OH (PRWEB) August 06, 2012
The Toledo Symphony has announced that Kenneth Thompson will conduct the sixth Music Under the Stars concert on August 12th at 7:30PM. The theme is "That's All Folks".
Highlights include music from Sousa, Reed and Grainger.
The 2012 Mercy Music Under the Stars presented by The Andersons is free.
Sam Szor, and 'The Off Broadway Dance Company' will make guest appearances.
More information can be found at http://www.toledosymphony.com. The series is managed by the Toledo Symphony with assistance from the Toledo Zoo.
Kenneth Thompson
Kenneth Thompson currently serves as associate professor andassistant dean in the College of Musical Arts at Bowling Green State Universityin Bowling Green, Ohio. His responsibilities include conducting ensembles inthe band area, teaching graduate conducting and repertoire and undergraduateinstrumental methods. Additionally, he serves on the conducting staff ofboth the Detroit Symphony Orchestra where he directs the Detroit SymphonyOrchestra Civic Wind Symphony and the DSO Civic Philharmonic Orchestra,and the Toledo Symphony Orchestra, where he serves as Artistic Director of theToledo Symphony Youth Orchestras and Conductor of the TYO Philharmonicand Concert Orchestras. A graduate of Limestone College (SC) with a doublemajor in music education and trumpet, Thompson received a master's degree inmusic education and doctorate in band conducting from The University of Iowa.Prior to his BGSU appointment, he held the position of associate conductorwith the St. Louis Wind Symphony and Chamber Winds, and now serves as PrincipalGuest Conductor. He has conducted performances for numerous regionalconventions, live radio broadcasts and multiple CD recordings.
Maintaining a reputation as both a scholar and performer, Dr. Thompson'sresearch is published in journals and research publications throughout theworld. He has also appeared as a guest conductor, lecturer or clinician for numerousstate, regional, national and international conferences. In high demandas a guest conductor and lecturer, Thompson maintains an active schedulewith engagements throughout the United States, Canada, Malaysia, Singapore,Thailand, Japan and China.
The Off Broadway Dance Company
Although their dance backgrounds are quite different, a love of tap dancing unites Geri Messer and Pat Balderas, owners of the Off Broadway Dance Company in Toledo. The women purchased the dance studio, exclusively for adults, in October 2011 and offer tap classes for beginners as well as seasoned tappers.
"We both had a passion for it, and, since we were retired, we had the time to do it," says Pat, who also teaches tap classes. She adds, "I love teaching and I didn't want to stop." Geri, a former nurse, says her experience in the business world with her husband gave her the confidence to run the studio. "I felt capable in my business ability and secure in Pat's tap dancing ability," she says."We have a good core of teachers and students – they're really a committed group."
Geri has a dance background, having begun lessons at age 3. She danced until she was 19; then put it on hold for 41 years. "I always thought I would start dancing again, but something always came up," Geri says. She says she found the studio through an acquaintance who was taking classes."I got my nerve up to call Pat and ask, 'Am I too old for this?' She was very encouraging. I felt like I had come home."
Pat, on the other hand, didn't start dancing until she was in her 40s. "I saw a dance group advertised in the papers. My husband was working out of town, so I had some time. I had always wanted to do it," she says. "I walked into the studio and fell in love with tap." Pat took master classes and eventually began teaching tap for beginners.
When the previous owner had less time to put into the studio, Geri and Pat discussed ownership and decided to make the leap. Their plan is to attract new students, such as women – and men also, they emphasize – who are tired of exercising at the gym. "Tap is something new and fun, and it gives them a chance to perform," says Geri. She adds that tap dancing builds both muscular strength and mental acuity. "Dance keeps our minds and bodies in good shape."
Since assuming ownership, Pat and Geri have expanded the opportunities available to the students, such as bringing in master teachers. "That's great for the students," to improve their skills, says Pat. In addition, the studio travels to Chicago in August for a tap workshop. "We get a weekend of intensive training," says Pat. "It's a great way to keep skills up and know what is going on in the industry."