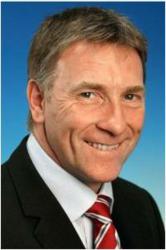 (PRWEB UK) 3 August 2012
Ewan Shepered believes the new charter will ensure the best aftersales care for business car drivers.
"It's a tough fleet market and to stand out, you have to offer businesses something special," he said.
In addition to the charter, a number of tax tools had also been launched to "demonstrate clearly why Toyota and Lexus win hands down on total cost of ownership".
Jon Hunt, marketing manager for Toyota and Lexus Fleet Services, told Business Car Manager: "The new charter was arrived at after much research into the needs of small businesses, SMEs as well as large concerns. It offers a priority booking at service centres and a response to service requests within no more than 20 minutes, with our network service centres using a special computer system, which allows response times to be monitored.
"As well and free delivery and collection services, we have capped-price servicing across the board, with no additional charges for fitting bulbs, wiper blades and so on. Our prices are transparent with guaranteed parts discounts. And our service centres provide a number of facilities for business users, including free wi-fi and other resources," he said. "All of these advantages have been brought together in the charter so fleet customers know what to expect."
Hunt said the new Toyota and Lexus Fleet Services Tax Tools replaced a 40-page Company Car Tax Guide booklet. "We have launched an app, Complete Company Car Tax Guide, which can be downloaded free from http://www.toyotalexusfleet.co.uk. The app, which is also available from iTunes and Google Play, provides a comprehensive guide to all aspects of company car tax and answers all questions on company car management and usage.
"It has an interactive calculator for company car tax and National Insurance costs. It's easy to use and can be constantly updated," he said.
Toyota business dealers also have access to a resource that be consulted for complete car cost calculations.
Hunt said it was unique in that it could calculate whole life costs on any vehicle as a comparative tool, with vital information for businesses giving details on whether it is better to purchase or lease – and not just on the conventional 'full term' of three years, but also for shorter periods. VAT recovery on maintenance, tax rate and write-downs cost allowances can also be calculated.
"All this improves cash flow and discounted cash flow of whole life costs for company cars," he said.
Toyota Prius Plug In Hybrid: one of seven Toyota models that fall into the ultra-low emissions category
The programme includes a full market database to compare across manufacturers and analyse cash flow in a bespoke fashion for individual businesses. Hunt said the resulting calculations would be sufficient to satisfy your accountant – "nothing else provides such comprehensive information".
But, according to Ewan Shepherd, the most important thing for Toyota and Lexus Fleet Services was having vehicles that "really perform". "For us, petrol hybrid technology ticks all the boxes – it offers affordability, reliability and sustainability," he said.
"Petrol hybrids provide consistently lower emissions across the range than their diesel hybrid counterparts." Hunt explained. "They also deliver better fuel economy, so there are tax savings for businesses and individual users.
"We have seven models that fall into the ultra-low emissions category, giving very clear tax benefits on the write-down allowance," he said. "Petrol hybrids have no particulate emissions, unlike the diesel variants. And diesels do tend to be more costly to maintain.
Lexus GS 450h: one of six new Toyota models rolled out to provide a broader choice of new products for small business company car drivers
"In terms of general air quality, petrol hybrids produce virtually zero nitrous oxide. But even diesel hybrids that meet forthcoming Euro 6 emission regulations are likely to be a target for tax by The Exchequer," he said.
According to Shepherd, petrol hybrid technology is the fundamental basis for future technology development: "It provides low emissions, higher efficiency, quiet driving and dynamic performance in terms of power and acceleration. Hybrid is the future in fleet – it offers business car managers a flexible modern option for a truly green fleet."
Toyota and Lexus Fleet Services has recently introduced six new models to its range as it rolls out a broader choice of new products for the company car drivers of small businesses: the Toyota Yaris Hybrid, Toyota Prius Plug In Hybrid, Toyota Prius +, Toyota GT 86 and Lexus GS 250 and Lexus GS 450h.