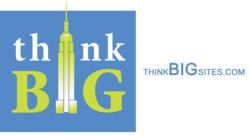 Having our hand on the pulse of Google and Facebook etc, is essential to us staying well ahead of that curve and in this area, we will never let up
Northport, NY (PRWEB) August 02, 2012
ThinkBIGsites.com is a well known pioneer in the internet marketing arena with a consistent five year track record of always being ahead of the industry curve and this new social search strategy has proven it once again. This time, they've cleverly harnessed the immense power and global reach of the two internet giants, Google and Facebook to help clients greatly and quickly increase their online visibility without breaking the bank. In fact, ThinkBIGsites management announced today that in just over two months of launching this SSO service, many clients are already reporting a significant increase in their overall online presence, their website traffic and most notably, their online sales.
This new and unique Social Search Optimization strategy has not only been thoroughly embraced by ThinkBIGsites' current international clientele but more importantly, it has also resulted in a 25% increase in monthly new account sales as well. This new service offering has already delivered well above average results, exceeding all expectations for clients throughout various industries of nearly every imaginable size and scope.
"At ThinkBIGsites we're excited to see our customers realizing an immediate increase in web traffic and online sales based on our new SSO offering. In fact, we've always prided ourselves in staying one step ahead of the competition which gives clients a measurable advantage over their own competition as well. Having our hand on the pulse of Google and Facebook etc, is essential to us staying well ahead of that curve and in this area, we will never let up," said Managing Partner PJ Cammarata.
ABOUT THINKBIGSITES:
ThinkBIGsites is a full service internet marketing firm specializing in driving targeted web traffic through expert Search Engine Optimization (SEO), Social Search Optimization (SSO) and Pay Per Click Bid Management strategies. For more information about ThinkBIGsites, visit their website at http://www.thinkbigsites.com, or on Facebook at http://www.facebook.com/thinkbigsites.