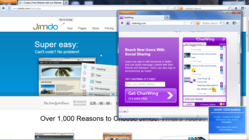 Houston, TX (PRWEB) August 02, 2012
Bloggers in the Jimdo community can now use the latest version of the Chatwing chat box. This chat application has been introduced in prominent blogging communities such as Wordpress and Livejournal. Chatwing's chat app can be used for different purposes such as visibility boost, blog marketing, efficient website chat, information relay, and online market expander. Additionally, Chatwing users can also utilize social media integration to help them expand their social networks in the least possible time.
Chatwing's social media integration has contributed to its overall rank. This feature allows users to log in with their Facebook or Twitter accounts. Many people who have signed up in the Chatwing free chat box have used this feature to find new friends and acquaintances. Facebook gamers have also used the option to send out invitations to other users, hoping to add them in their games as 'neighbors.' Chatwing also allows full conversation control for all of its users—now, Chatwing users will be able to delete messages in just one click. They can also set up word filters to ensure that the blog won't be riddled with profanity.
The Chatwing team has also noted that the Jimdo community is growing. New bloggers now prefer website builder sites because of the accessibility they can offer. If Jimdo can be an opportunity for many aspiring bloggers, Chatwing's can boost online presence. According to Chatwing's research, bloggers who have used the free shout box had massive spikes in the visibility of their blogs.
To further help bloggers in the coming months and years, the Chatwing dev team will continue introducing new upgrades to the chat widget. In this way, the application will become more stable, preventing more technical glitches in the future. Aside from Jimdo, the Chatwing team is also planning to expand in other communities where website chat is highly needed.
About Chatwing.com
Chatwing.com has developed live chat software for websites and blogs. It caters to different online communities due to its high rate of connectivity. Everyone can create a customizable live chatbox in 1 minute or less. Users have the ability to customize the size, color, and fonts of the chat product. The ability to chat via social media accounts such as Facebook and Twitter enable Chatwing to offer a personal and unique real-time experience to all sites. Chatwing is 100% free and very easy to use.