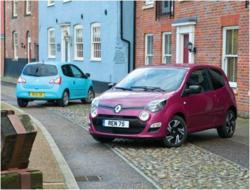 (PRWEB UK) 5 August 2012
What is it?
Heavily facelifted version of Renault's city car - at the low cost end of the company car spectrum. Latest Twingo gets a dramatic front end inspired by the French firm's recent DeZir concept, and a slightly better quality cabin. There are no changes under the bonnet, however - the familiar 75bhp 1.2-litre four-cylinder petrol continues as the only choice in a one-model slimmed down range. Is that enough when there's new competition from the VW up! et al?
Price for the Twingo Dynamique tested here is £10,350.
What's hot?
Well, it certainly stands out more with that wide grille, huge diamond badge and twin circular spotlights
You can order two new colours, Bermuda Blue and a Fushcia pink, and choose from some MINI-style decals too
Inside, there's a new higher quality dash material, new seat patterns and more colour-coding but that's about it
There's a decent amount of space with seating for four. A VW up! is bigger though
It's fun; the steering is precise and there's not much body roll
With 119g/km road tax is free in the first year
What's not?
The rear lights are split awkwardly across the tailgate...
...and the interior isn't much different from the outgoing model
The 1.2 engine needs revs to get the best out of it; at which point it becomes noisy
The ride is pretty firm
It's very buzzy on the motorway
A VW up! is more economical (60mpg vs 55mpg), costs from £7,995, and is a far better all-rounder
Distinctive new spots for the facelifted fun-to-drive Twingo
Business Car Manager Road Test Verdict
The latest Twingo is decent enough - but these changes haven't really moved it on that much. Newer rivals like the VW up! (and its Skoda and SEAT sister cars) are much better to drive, have more equipment and are more spacious. Not to mention cheaper to run in terms of pence per mile. If only Renault had invested in a new sub-100g/km engine, then at least it would have done even better in the car tax calculator and gained a strong selling point.
The low down
P11D Value £10,295
Monthly business rental (ex VAT) From £148 (3yrs/30,000 miles)
Tax Bands 2011/12 to 2013/14 14%, 15%, 16%
Benefit in kind 2011/12 to 2013/1 £3,857 £4,179 £4,500
Engine 1.2 litre 4 cyl petrol
CO2 Emissions 119g/km
Power/torque 76PS/107Nm
0-62mph/top speed 12.0 secs/106mph
Economy (official) 55.4 mpg