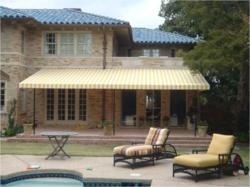 Dallas, TX (PRWEB) August 01, 2012
Clanton's Quality Awnings has been operating out of Dallas, Texas, for more than 80 years. Over the years, the company has grown to become a leader in the awning industry by staying on the cutting edge of technology and market trends. Continuing this tradition of progress, Clanton's Quality Awnings is proud to introduce a welded seam process into its awning production.
The awning industry has come a long way since Clanton's Quality Awnings opened in 1929. As times have changed, so too has the company, and its introduction of the new welded seams sewing process is poised to carry the industry into the future. Clanton's Quality Awnings was the first company to recognize the benefits of integrating the welded seams technique into its production process. The result of this new technique is that awnings now have greater durability and longevity.
The increased durability of Clanton's Quality Awnings' welded seam awnings comes from the way the company constructs the awnings. Using the new technique along with the latest in fabric seam welding, the company is able to produce awnings, canopies, and power sun screens that are more durable and are better able to withstand the elements. The new awnings utilize the Sunbrella Graphic System, which lets Clanton's Quality Awnings create highly visible eye-catching awnings for businesses and events.
All awnings created using Sunbrella fabrics also come with a full 10-year warranty. Awnings are an investment, and those looking to get the most for their investment are encouraged to contact Clanton's Quality Awnings to learn more about the benefits of Sunbrella fabrics and the new welded seams process.
About the company:
Since 1929 Clanton's Quality Awnings has been offering custom made products for your every residential or commercial need. Clanton's Quality Awnings is located at 4612 S Buckner Blvd and serves the Dallas-Forth Worth area. For more information visit their website at http://www.clantonsqualityawningsdfw.com.