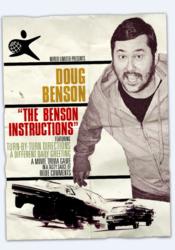 100% Premium Grade Voice Guidance!
(PRWEB) August 03, 2012
The Benson Instructions has been specifically designed to make life easier for habitually lost and disoriented drivers by providing them with a premium voice guidance for GPS navigation for iPhone and Android.
Like a rude backseat driver, Doug Benson tells drivers where to go and whether they're driving like idiots. He provides mostly useless driving tips and a steady stream of hilariously demotivational one-liners. Naturally, there's a movie game for those long, lonely stretches of highway and a bunch of other nifty content that won't be revealed here because being surprised is at least half the fun!
The Benson Instructions is all about the journey, not the destination. So... drivers shouldn't be too surprised if they end up a few thousand miles off-course. They can always count on Doug's voice to drown out most of their angry cursing.
"Doug Benson and Mireo DON'T PANIC will actually get you where you need go with clear navigation instructions and a seamless map display. Doug will, however, try his darnedest to keep you entertained and smiling while you're behind the wheel," states Mireo Project Manager Joe Lasic, adding that "Doug's biggest concern, and ours too, was to make sure consumers got the highest-quality product possible. We spent a lot of time brainstorming and writing, as well as recording and re-recording Doug's performances over several weeks. Working with Doug was great fun and we couldn't be happier with the results."
Mireo DON'T PANIC North America is on-board, turn-by-turn GPS navigation app with TomTom maps that are stored directly on the driver's smartphone. The app features free, unlimited updates of the US and Canada maps and is now on sale at half price for $14.99 through August.
The Benson Instructions is available exclusively through the Mireo DON'T PANIC In-app Store for $4.99.
Click here to learn more.
Click here to see The Benson Instructions on YouTube.
*IMPORTANT NOTE: No animals were harmed during the testing of The Benson Instructions. However, several Mireo programmers are still exhibiting strange behavior after sampling some of Doug's "medicine".
Mireo has been in the GPS navigation business for over a decade providing navigation solutions to clients around the world. They enjoy good comedy and racing rally cars. DON'T PANIC is their flagship navigation app.