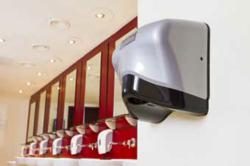 " I heard that SAVortex had been awarded a Guinness World record for energy efficiency and this is the icing on the cake and simply endorses the fact that we made the right decision. We look forward to a having them on board"
London (PRWEB UK) 6 August 2012
Chris Reid, Office Manager, ABN-AMRO Commercial Finance UK: " We chose the Vortex 550 because we had tired and uneconomical old dryers and we had concerns over washroom hygiene in respect of issues dating back to 2010 over swine flu. By installing the Eco Smart dryers from SAVORTEX, we aim to reduce our electricity consumption and provide our staff with dryers that dry hands in 10-15 seconds with minimum impact on the environment. We anticipate over a short period of time that the Vortex dryers will have paid for themselves. Our research indicates that we can experience a 7 year cost saving of £11,786 and gain 37,932 kg of CO2 carbon savings"
Chris added, "You have to make intelligent procurement decisions taking into account the life cycle of the product. When it comes to sustainability, we aim to be a leading bank in this area within a few years. With this in mind, we consciously embed sustainability in the bank's strategy and operations. After we placed our order, I heard that SAVortex had been awarded a Guinness World record for energy efficiency, and this is the icing on the cake and simply endorses the fact that we made the right decision. We look forward to a having them on board"
ABN-AMRO pursues its sustainability policy based on three core principles from supplier to Customer: putting customer's interests first, being alert to social developments and needs, and taking responsibility in the supply chain. Their goal is to further reduce paper consumption and reduce energy consumption by 20% (compared to 2009). The bank's motto is: Consume less, operate sustainably and accept responsibility.
Customer research conducted by SAVORTEX found that peace of mind and confidence in the durability and life cycle of a hand dryer is a critical factor to many facilities managers. As a result, SAVORTEX aimed to establish the robustness of the Vortex 550 EcoSmart and performed a stress test on the duty life cycle of its revolutionary brush-less bypass motor technology. 
The Vortex 550 EcoSmart achieved 2.4 million cycles – meaning if 200 people used the Vortex 550EcoSmart every day, a single unit could last more than 35 years. Based on the strength of this research SAVORTEX extended its warranty from five years to a market leading seven. 
The unique Vortex heat-recycling technique consumes less electricity, using just 550 watts, without compromising its powerful 15 second performance. The Vortex 550 EcoSmart has lower operating costs than 1600W/2400W hand dryers and a life expectancy of 35 years, compared to 1-2 years for conventional dryers.
The Vortex 550 EcoSmart is the product of six years of scientific research and product development. Our engineers were given the challenge of overcoming the inefficiency and short life expectancy of conventional 2400W hand dryers. The result was a super energy efficient hand dryer at only 550W.
Notes to editors 
About ABN AMRO
ABN AMRO serves retail, private and commercial banking customers in the Netherlands and across the globe. Along with a comprehensive range of products and services, we offer in-depth financial expertise, extensive knowledge of numerous sectors and an international network supporting our customers' domestic and international operations. 
Society at large inspires all that we do at ABN AMRO: we put our customers, employees, shareholders, society and the environment first. 
About SAVORTEX
The Guinness World Records title, Most hands dried using 30kJ of energy, was devised by Guinness World Records officials as a challenge to measure the energy efficiency in hand drying. The Vortex 550 EcoSmart successfully dried four pairs of hands using less than 30kJ of energy. Typically, hand dryers use between 72kJ and 96kJ of power to dry just one pair of hands.  SAVORTEX successfully achieved four pairs of dry hands using just under 25kJ of energy – smashing the minimums set by Guinness World Records officials and claiming the world record. 
SAVORTEX is a British technology company that designs energy efficient products, specialising in the global washroom sector. Our principle is to lead the industry through innovation, by developing revolutionary, Eco friendly products that are truly sustainable.
SAVORTEX was recently awarded 'Best of Britain', and was selected as one of 16 cleantech companies on a trade mission @CleanandCool backed by the UKTI, to the CleanTech Forum in San Francisco in March 2012.
Find us at http://www.savortex.com and follow us  @Savortexuk 
SAVORTEX – Sustainable smart drying for life
info(at)savortex(dot)com 
SAVORTEX Ltd, One Canada Square, 29th Floor, Canary Wharf, London E14 6DY
T:+44 (0)207 956 8840