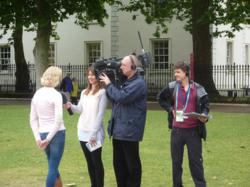 London (PRWEB UK) 2 August 2012
Sharon Hunt, is a world-renowned former Olympic Event rider who helped Team GB to secure the Team Bronze medal in Beijing in 2008. The BBC and Horse & Country TV alike have valued Sharon's expertise and insights. On each night of the four day Olympic eventing, Sharon has given her thoughts and professional opinion on how the competition progressed.
Andrew Gould, international dressage rider and dressage coach to professional riders, including Olympic athletes, will also be commentating on the 'Rudall's Round Up' programme of Horse & Country TV, post each dressage competition. Andrew has also been requested to appear on the BBC to offer commentary and an expert's opinion.
Graphic Evidence enjoy a successful working relationship with these riders across a number of areas including enhancing their media profiles, crisis management, sponsorship agreements, social networking and media relations.
Graphic Evidence, graphic designers and full service creative marketing agency, in addition to PR, specialise in a wide range of design and marketing including branding, logo design and website design.
To view more successful and ongoing PR relationships please visit: http://www.graphicevidence.co.uk for more information on the range of services that are offered.