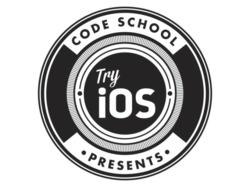 Orlando, Fla (PRWEB) August 02, 2012
CodeSchool.com operates with the goal of making learning to code fun and easy, and this will soon include iPhone app development. This week, Code School introduced their first Kickstarter project "Try iOS," which is currently seeking funding on Kickstarter.com's creative project funding platform. The iPhone app development course will combine high-quality screencasts, in-browser code challenges, and gamification principles to make learning fun, with no downloads required.
iPhone application development is on the rise, and learning to create apps is a highly technical skill that continues to grow in value. iOS app education and development currently require access to an updated Apple computer with the latest iOS programming software. Code School wants to reduce these barriers to entry by combining high-quality screencasts with an in-browser code editor and live iPhone simulator so that beginners can learn to create iPhone applications in mere hours.
Code School produces high-quality web development courses, which are used by thousands of developers around the world. In the past year, they have released 15 courses, including Rails for Zombies, Journey into Mobile, Real-time Web with Node.js, and more recently, Try Git. All courses allow users to learn by doing, providing quick and accurate in-browser feedback as users code and complete challenges.