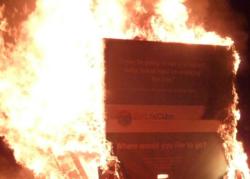 New York, NY (PRWEB) August 02, 2012
What does it take to burn art at Burning Man? And further, why burn it, after taking so much time, effort and expense to create it in the first place?
Only a few art projects are authorized for burning at the end of the week-long festival in the Black Rock desert in Nevada. With that permission recently secured, The Life Cube art experience in 2012 will culminate in a fire performance and go up in flames – all 256 square feet and 10,000 pounds of art and lumber and the accumulated week's worth of the festival goers' wishes, hopes and dreams – in a cathartic spectacle that has been planned to the smallest detail by the New York artist and his dedicated fire safety team.
Becoming part of the fiery ceremonies ending the Burning Man festival in the Black Rock desert of Nevada is an opportunity that comes with a responsibility for public safety and strict adherence to a leave-no-trace policy; a burn permit is awarded to fewer than 10% of the authorized public art installations at Burning Man. "Even though many people have the impression that it is a free-for-all in Black Rock City, there are many rules, approvals, and a bureaucracy that needs to be navigated to obtain the required permissions to set up, and especially, to burn your art," states Scott Cohen, the artist behind The Life Cube project.
A team of over fifty volunteers, craftsmen and artisans have been working across the country to create The Life Cube, an interactive public art installation at Burning Man this summer. In addition to the fire crew, The Life Cube team benefits from its members' skills in graphic design, lighting, construction, transportation, and a myriad of support functions; the project has reaped the support of many others as well, through its outreach site on KickStarter.
Visible for only a week until it burns to the ground at midnight on September 1st, The Life Cube will stand 16 feet high, covered with colorful artwork and inspirational quotes from artists, authors and philosophers. The project offers a stimulating and thoughtful place for people to meet and reflect on what they want in life, and encourages them to post their messages and deposit their written goals and aspirations into slots in the Cube. When the repository for all of those written hopes and dreams is burned, the messages will combine and reach skyward in a blazing column of fire, smoke and ash that adds a spiritual element and a sense of closure to the process for those who partake in it.
Mr. Cohen conceived of The Life Cube as an aesthetic interpretation of his own belief that if you write down your goals, wishes and milestones, you will have a better chance of achieving them. He started setting goals to paper at the tender age of seventeen, and been fortunate to accomplish many of the things he set out to do. After 35 years of professional success in nine industries, he decided to devote his creative energies to artistic endeavors and projects, most notably at Burning Man.
Last year was the first time that Skeeter, the moniker Mr. Cohen uses on the playa at Burning Man, created art at Burning Man, with an initial, downscaled version of The Life Cube. He states that his role as an artist at Burning Man in 2011 was one of the top ten experiences of his life. The decision to recreate a more spectacular version of the installation in 2012 was made almost immediately after completing construction of the first Life Cube. The new enhanced version is eight times larger, more interactive with a mid-level platform and write-boards for messaging, more compelling at night with added light and sound features, and more creative in its design components as well.
Even before The Life Cube experience at Burning Man reaches its fiery conclusion, Mr. Cohen is already thinking about the next stage of the project. He indicates that after the festival ends, he and his team intend to redesign, rebuild and travel the concept to a museum and/or urban parks and other public spaces.
More information about The Life Cube can be found at: http://thelifecube.wordpress.com/ and on Kickstarter at: http://www.kickstarter.com/projects/thelifecube/the-life-cube-v2-at-burning-man?ref=live
About Burning Man
Burning Man celebrates community, art, self-expression and self-reliance, and takes place over the week leading up to Labor Day each year on the Black Rock Desert in Nevada. The festival draws its constituents from across the country and around the world. Fully half of its open space is devoted to stationary and mobile art projects. Art installations are approved by an arts committee (the ARTery) and are located on the desert 'playa' opposite the semicircle of the Burners' tents and campsites. Engaging art displays, and a heightened sense of interpersonal interaction are integral to the experience of the 55,000 temporary citizens of Black Rock City.
About Artist Scott Cohen
After residing in Manhattan for years, Scott Cohen now lives in Westchester, just north of New York City. Regarding this installation, Cohen stated "I am very excited and a little overwhelmed by everyone who has offered to help with the project this year. Coordinating construction in California, printing in Ohio, design in Minnesota, lighting in Texas, and having the additional support of dedicated people across the USA has been like running a small company. I am thrilled with the encouragement from family, friends and the folks at Burning Man, who have helped to make this vision a reality."
Scott Cohen is the Founder/CEO of Red Tie Media, an entertainment, technology, and media consulting company. From 2007-2009, Scott was Co-Founder & CEO of Dimestore Media, Inc., which was sold to Knowledge Networks in 2009. In prior years, he was a Co-Founder and senior level executive of two companies that went public: 24/7 Media, now a division of WPP Advertising Group, and LivePerson. Scott also served as President of Game Trust, which was acquired by Real Networks. Scott currently serves on several Boards of Directors and is involved in other arts and creative projects.
Keywords: Burning Man Art, artist at Burning Man, The Life Cube, The Life Cube V2, BM2012, Black Rock City, wish cube, wishes at Burning Man, writing down goals and wishes, burning art at Burning Man, Burning Man art installation, skeeter at Burning Man, scott cohen, red tie media