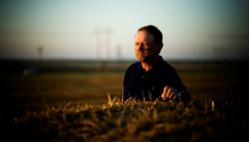 I increased my bottom line by $55/acre
Houston, Texas (PRWEB) August 02, 2012
StollerUSA, the leader in plant performance technology, reminds all wheat growers they have one chance to seed treat their winter wheat with Bio-Forge® ST to help prevent stress later. With an average 5-15 bu/acre increase providing a robust ROI, treating wheat seeds with the Stoller program improves early vigor and enhances yields.
"Treating early is the best thing you can do for your crop," stated Dr. Wayne Smith, General Manager of StollerUSA. "It's vital for the plants to have that early boost during germination and establishment for robust seedling development that will carry the young plants through the winter."
Seed germination is a high stress period for plants. Stoller's Bio-Forge ST helps the plant manage that stress more effectively by reducing the level of excess ethylene caused by stress. Balancing stress ethylene at the correct levels help to provide optimal hormone balance for proper plant functioning.
Bio-Forge ST regulates genes associated with root hair growth to promote stronger seedling vigor, fibrous root mass, improved nutrient uptake and rapid, downward root growth. Bio-Forge ST also increases the winter survivability of the plant.
"When you can find something like Bio-Forge that pushes a great crop yield to an even higher level, you know it's worth the hassle of sorting through different products. I increased my bottom line by $55/acre," explains progressive grower, Donny Carpenter. Located in Dimmit, TX Carpenter seed treated his wheat and resulted in 12 bu/acre yield increase.
Independent and university research studies have proven the benefits of Bio-Forge ST as a wheat seed treatment – producing an average 11 bu/acre increase during the extreme growing conditions experienced in 2012. Growers can review more information on treating winter wheat seed and view the research by visiting http://www.stollerusa.com/wheatseedtreat.
StollerUSA is dedicated to helping producers enhance yields by maximizing genetic expression. The result is enhanced marketable yield, improved return-on-investment and improved tolerance to disease and other stress. Only Stoller products contain Stoller's proprietary technology that is proven to ensure optimum plant growth by maintaining appropriate hormone balance in combination with supporting nutrients. Validated by Universities nationwide, Stoller's unique formulations result in healthier, more productive crops that are better able to withstand stress and achieve their full genetic potential.
About StollerUSA
Celebrating 40 years in agribusiness, StollerUSA markets a full line of products to help farmers increase crop yield and quality. StollerUSA, headquartered in Houston, is actively engaged in basic and practical research to enhance crop productivity in more than 50 countries.