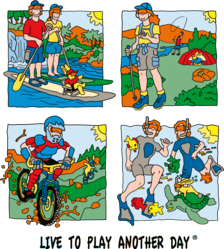 Our sport images show the joy of sports and the outdoors.
Ridgway, CO (PRWEB) August 01, 2012
Multisport Journeys (MSJ) unveils new sports artwork at the 2012 Summer Outdoor Retailer show in Salt Lake City, UT August 2-5, 2012. Its new gal collection features female athletes engaging in a full range of sports.
As the official tee shirt sponsor of the show, Multisport Journeys will be giving away 1000 free tees at the main east entrance of the Salt Palace. A Colorado based company, Multisport Journeys is giving away its fun and original sports t-shirts to attendees of the show. Great for the outdoor enthusiast or gift giver, this year's tee features one of MSJ's Quad designs with 4 sports – stand up paddling (SUP), camping, snorkeling and mountain biking. To highlight its family focus, the MSJ free tees will be available in men's, women's, youth and toddler sizes.
"Our mission is to encourage everyone to be active and to enjoy the outdoors, but we especially want to be a resource for families with kids," says MSJ founder Sue Field. "My brother Jeff draws our sport images to show the joy of sports and the outdoors. The designs make kids see that sports really are fun. The diversity of sports encourages them to try different activities. What better way to do that than with their parents or grandparents leading by example by being active and also wearing matching MSJ gear," Sue continued.
See MSJ's full line of men's, women's, kids' and baby styles and new sports artwork at the Outdoor Retailer Summer Show (Booth #BR407).
About Multisport Journeys
Multisport Journeys promotes positive "get active outdoors" messages with 375+ original sports & travel images representing everything from mainstream sports (hiking, biking, skiing) to niche adventures (rock climbing, mountaineering) to team sports (soccer, lacrosse) to fitness (running, yoga), paddle (SUP, kayak) and travel (jeeping, ATVing) activities. MSJ's artwork can be laser-etched into high-quality fleece jackets or vests, printed on casual cotton or technical wicking apparel and embroidered onto baseball caps and snow beanies. The apparel brand is a prequel to a series of active travel guidebooks MSJ intends to publish that will be aimed at baby boomers and kids.