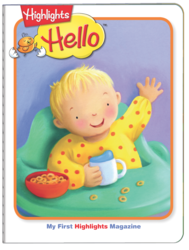 Columbus, OH (PRWEB) August 03, 2012
Highlights for Children, Inc., the family media brand devoted to "Fun with a Purpose," has released a new monthly magazine geared toward babies and their caretakers.
"Most of us know how important it is to read to even the youngest children, and we know what research says about how early reading promotes language development," says Editor-in-Chief Christine French Cully. "This magazine brings age-appropriate content into busy parents' mailboxes, making it easy for them to read to their babies. Just as important, Highlights Hello helps parents experience the joy of connecting with their baby over a story—reading, laughing, singing, playing and talking."
Highlights Hello contains vivid illustrations, simple lyrical poems, songs and a version of Hidden Pictures puzzles just right for the youngest readers, as well as tips to help parents and caregivers feel confident reading to their babies. The magazines are printed with non-toxic ink containing soy and vegetable oils on durable, washable paper with rounded corners. It is stitched, not stapled. Every feature is designed with babies in mind. Each monthly issue will be mailed in an envelope to keep it clean, so parents can feel good about giving the magazine to their babies.
"Early childhood is a short, sweet, bustling season," says Cully. "We salute parents and grandparents who find time in their busy days -- and maybe in some of those sleepless nights --to read to their little ones."
Pre-ordering starts today at Highlights.com. The first issues of Highlights Hello will ship in December 2012.
About Highlights:
Devoted to "Fun with a Purpose," family media brand Highlights for Children, Inc. (http://www.highlights.com/) has helped children become their best selves for generations. Highlights magazines are the best-read children's magazines in North America, and total more than 250 million impressions each year. Other Highlights offerings include a web site for kids (HighlightsKids.com), a preschool magazine (High Five), a children's book company (Boyds Mills Press), puzzle book clubs and mobile applications like My First Hidden Pictures. "Fun with a Purpose" and Hidden Pictures are a registered trademarks of Highlights for Children, Inc.