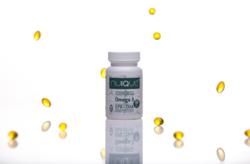 Simon Worth, General Manager of Nuique Ltd says "One day in the not too distant future all long chain Omega 3 will come from algae and not fish! Why plunder our oceans when there's a perfectly sustainable, toxin free alternative to fish oil?"
(PRWEB) August 02, 2012
Why is NUIQUE EPA & DHA so revolutionary? NUIQUE's new supplement contains high levels of EPA & DHA, the active ingredients only found in oily fish and algae. It's naturally low in Omega 6 and saturated fats and no additional Omega 6 is added in the form of Sunflower oil or Sunflower lecithin.
Nuique feels it's about time the lid is lifted on supplements that boast of 'a complete Omega 3' or 'Omega 3,6,9'. Many consumers are fooled into thinking they are getting a superior Omega 3 product.
So why should consumers just take pure Omega 3 EPA & DHA and not Omega 3, 6 & 9?
A 100 years ago people died from omega 6 deficiency, that's no longer the case today. Omega 6 although essential for survival is abundant within a variety of foods. Some of these foods with high amounts of omega 6 fats are French fries, Sunflower oil, Corn oils, all oils, nuts, seeds, cakes crisps/ chips, fried chicken, fried foods, red meat, Snack bars, milk /eggs, cakes. Even olive oil contains 12% OM6.
It's important to get the right balance of Omega 3 & 6. Too much Omega 6 is detrimental to the absorption of Omega 3. The ratio should be between 1:1 to 1:4 Omega 6 to Omega 3. The typical Western diets contain far too much omega 6, so it is unnecessary to take any more and waste money on a Omega 3,6 & 9 supplement. Average western diets can contain imbalances up to as much as 50:1 in favor of Omega 6.
Too much Omega 6 will only go into storing in the body where most people don't want it, around the belly in most cases.
Where does Omega 3 store? In the brain, eyes and heart.
Omega 3 V's Omega 6
There are many differences between Omega 3 and Omega 6, for instance:
Omega 3:
Omega 3 kick starts the metabolism
Omega 3 reduces fat cells
Omega 3 activates the body to burn fat
Omega 3 can only store in small amounts
Conversely, Omega 6 offers the following:
Omega 6 reduces the metabolism
Omega 6 boots bigger fat cells
Omega 6 activates the body to store fat
Omega 6 stores in substantial amounts.
As for Omega 9, the body can make it, so again a supplement is unnecessary.
Humans cannot manufacture long chain Omega 3 EPA & DHA, they have to get it from their diet by consuming either oily fish or an algae oil supplement.
Algae are the source of long chain essential fatty acids (PUFA's) and fish obtain Omega 3 from their diet of algae. When creating Nuique Vegan omega 3, the company went straight to the source and bypassed the fish.
The future without question, should be algae derived Omega 3, why? It's pure, unadulterated and 100% natural, great for all the family, and is especially important for expectant and breastfeeding mothers. NUIQUE OM3 is guaranteed to be free of toxins, heavy metals and PCB's because it's grown in a controlled pharmaceutical grade facility, away from the sea. Therefore customers can be sure of the highest quality and purity of the algae oil without having to take a fish oil.
Simon Worth, General Manager of Nuique Ltd says "One day in the not too distant future all long chain Omega 3 will come from algae and not fish! Why plunder our oceans when there's a perfectly sustainable, toxin free alternative to fish oil?"
NUIQUE EPA & DHA Vegan/Vegetarian Omega 3, is naturally low in omega 6 with no added Sunflower oil or Sunflower lecithin, delivering a whopping 100 mg EPA & 400mg Omega 3 per 2 capsule, easy to swallow, daily dose.
NUIQUE , Vegan omega 3 is:

High strength EPA & DHA non-fish marine oil from algae
Vegan and Vegetarian approved
Great for the brain, eyes, joint and cardiovascular health
Fully sustainable – NUIQUE just grows it
Free from toxins, heavy metals, PCB's
Very low in omega 6 and saturated fat with no added OM6 in the form of Sunflower oil or Sunflower lecithin
Free from Sunflower oil and Sunflower lecithin, wheat, dairy, sugar, gluten, GMO's and all animal products and by-products
Initially NUIQUE EPA & DHA will be sold through the http://www.nuique.com website before filtering through to worldwide wholesalers for distribution.
For further information please contact:
Simon Worth
NUIQUE Ltd
Marsh Wood House
56 Ravensden Road
Renhold, Bedford