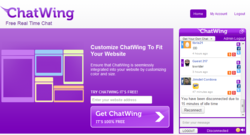 San Francisco, CA (PRWEB) August 02, 2012
Blogging in the Jimdo community has grown by a significant percentage, based on the research done by the Chatwing development team. To enhance the blogging experience of these Jimdo bloggers, Chatwing has launched a live chat box that is integrated with social media and allows full conversation control. Additionally, the Chatwing chat application is compatible to most blogs and websites, and can be installed with relative ease.
Chatwing's free chat box has undergone several changes in the past few months. These changes were geared to ensure that the chat box will remain strong for the coming years. Despite the rate of competition when it comes to widgets, the Chatwing chat app has remained one of the strong contenders in the blogosphere. One of the best features of the Chatwing shoutbox is social media integration. Through this option, Chatwing users will be able to log in with their Facebook or Twitter accounts. Social hunters in Jimdo can benefit well from this option because they can send invitations to other visitors easily. This is the reason why many Facebook marketers have been using the Chatwing free chatbox for their short campaigns.
Chatwing's developers are also planning to conduct several upgrades that will make the free shoutbox as efficient as ever. One of these planned upgrades is the user capacity overhaul. From the 600-user capacity, the developers are planning to upgrade it to 1000. In this way, many people will be able to use Chatwing more effectively. Chatwing also allows full conversation control—users will be able to delete chat box messages with just one click and they can set word filter parameters.
The Chatwing development team has been always thinking about the betterment of online chat. Ever since the inception of the Chatwing chat widget, the developers have been researching about ways on how to expand to various online communities. In the coming months, the Chatwing team is planning to expand to famous online sectors like fashion, sports, Hollywood, human interest blogs, and event streaming websites.
About Chatwing.com
Chatwing.com specializes in the new field of website chat. Over years, the Chatwing team has introduced live chatbox for hundreds and thousands of blogs. The Chatwing application bridges people from many parts of the world, creating global synergy through the Internet. The shout box can be installed in just seconds, and it can be used for varying purposes such as leisure and Internet marketing. It also allows a user to customize the size, color, and name of the widget. Chatwing is 100% free for everyone.