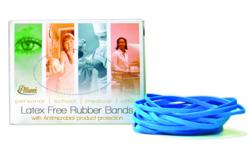 According to OSHA, "Molds are fungi that can be found anywhere - inside or outside - throughout the year. About 1,000 species of mold can be found in the United States, with more than 100,000 known species worldwide."
Hot Springs, Ark. (PRWEB) August 01, 2012
According to recent reports from the Occupational Safety and Health Administration, (OSHA), increasing exposure to mold and other hazards can cause a variety of health effects and symptoms. While latex products have proved effective in preventing the transmission of many infectious diseases, the Centers for Disease Control and Prevention indicate, "…exposures to latex may result in allergic reactions. Reports of such reactions have increased in recent years—especially among health care workers."
Alliance Rubber Company, the leading family-owned manufacturer of rubber bands, is responding to these health care concerns by providing the world's only antimicrobial, latex free rubber band.
"Our products are able to protect more than 14 million health care workers in the United States," Bonnie Swayze, President of Alliance Rubber Company, said. "Often, employees do not realize that something has happened to create or expose them to hazardous conditions. They later find themselves wondering what has happened, what has made them ill, how they can protect themselves, and what they can do to help others struggling with these kind of health concerns. Turning to our products is a responsible, natural solution to the unknowns when seeking to provide smart, affordable workplace protection."
According to OSHA, "Molds are fungi that can be found anywhere - inside or outside - throughout the year. About 1,000 species of mold can be found in the United States, with more than 100,000 known species worldwide."
"Our primary concern is always for the safety of the employee," Swayze said. "There are plenty of health dangers, which puts the unsuspecting individual, in a vulnerable position. We are working diligently to help, where possible, with products that make a difference in the lives of our customers. Should anyone have questions regarding the full benefits of our product line or need additional information, they are encouraged to contact our customer service agents, who are available at their convenience."
About Alliance Rubber Company
Since 1923, Alliance Rubber Company has been dedicated to "Holding Your World Together." The company has grown into a global leader with over 2,100 skus of mailing, shipping, office, and packaging products sold through dealers in 28 countries. Under the current leadership of Bonnie Swayze, president, Alliance continues its long history of innovation. Pioneering the women's entrance into the boardroom, Bonnie was the first female board member of the Wholesale Stationers Association, and has served on the WBENC board and other HUB organizations. Winners of the 2012 NIST Innovation Award, learn more about Alliance by visiting http://www.rubberband.com or telephone 800- 626-5940.
Alliance Rubber Company is currently sponsoring a $500 rubber band contest. Learn more by visiting: http://www.rubberband.com/new-a-events/our-blog-bandology.html or by using your smart phone to scan the Quick Response Code on specially marked packages of Alliance products. Individuals can also visit us on Facebook to learn more at: http://www.facebook.com/alliancerubbercompany?ref=mf