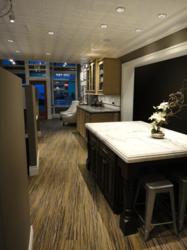 We used the Classic Gingerbread ceiling tile to replace some missing and damaged tiles of an existing ceiling that dates back to 1910. The trasition was perfect and seamless!
(PRWEB) August 02, 2012
Owners and operators Jeremy Bauer and Jason Clifton have over ten years of combined experience in the design and decorating industry. The designers and their associates are ready to help with every step of the tile installation process, including planning the layout, selecting the tile design, ordering the tiles, and installing them on the ceiling, walls, or even floors.
To view photographs of several installations, visit the Bauer/Clifton website at http://www.bauerclifton.com.
Located at 119A Second Street, Juneau, Alaska, the Bauer/Clifton Interiors office is conveniently situated to homes and businesses in all areas of the city.
With headquarters in Florida and distributors and installers throughout the United States and select overseas locations, Decorative Ceiling Tiles.com is the online leader in the sales of decorative ceiling tiles.