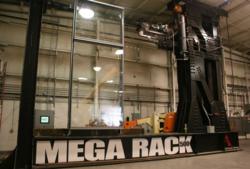 Seismic design provisions to mitigate glass fall out are now constituents of all major building codes.
York, PA (PRWEB) August 01, 2012
Key Representatives from University of California, San Diego (UCSD), Enclos Corp., Cannon Design, Kitchell Contractors, Inc. as well as those involved in the construction project of Jacobs Medical Center on UC San Diego Health System's La Jolla campus arrived at Architectural Testing's (ATI) York headquarters Tuesday, July 10th to witness dynamic seismic testing performed on the 6 ft. by 16 ft. high unitized curtain wall units that will eventually make up the Medical Center's façade. Construction for Jacobs Medical Center is scheduled for completion in 2016 with comprehensive design/build services provided by Enclos Corp.
Early in the day, ATI employees loaded the first of three units to be tested to AAMA 501.6-09 Recommended Dynamic Test Method for Determining the Seismic Drift Causing Glass Fallout from a Wall System. To perform this test the individual glass wall panel specimens are mounted on a dynamic racking test apparatus. The upper anchorage points of the specimen are attached to a moveable beam while the bottom anchorage points are fixed. The dynamic racking test apparatus then moves back and forth in sinusoidal motions at gradually and progressively higher racking amplitudes. From this, glass fallout can be determined.
Travis Hoover, Program Manager of Structural Systems Testing at ATI explains the need for dynamic seismic testing. "During earthquakes, drifts in the building frame can cause glass to fragment and fall from the framing system, threatening the safety of building occupants and pedestrians. Because of this, seismic design provisions to mitigate glass fall out are now constituents of all major building codes," says Hoover.
These provisions reference specialized laboratory test methods such as AAMA 501.6-09 which were designed to improve the safety performance of architectural glass components in buildings within earthquake prone regions such as San Diego.
Architectural Testing was the first independent commercial laboratory accredited by the American Architectural Manufacturers Association (AAMA) to conduct AAMA 501.6 testing. They developed the industry's first seismic racking test apparatus which simulates dynamic earthquake conditions, for testing to that standard.
Founded in 1975, Architectural Testing, Inc. (ATI) is a leading product testing service provider in North America, with ISO/IEC 17025 accreditation and capability to perform more than 2000 defined test protocols at one or more of its thirteen full-service laboratories. Testing is available for building products and systems of all types, in the form of individual units and full-scale mock-ups, roofing materials and systems, concrete and masonry, insulation and construction materials, sealants, adhesives, and many others. Architectural Testing offers certification services including a building product listing program, with a staff of professional engineers licensed in twenty states. They also offer consulting services including building envelope commissioning and forensics, and maintain qualified field testing crews that travel all over the continent to perform air/water testing on existing buildings and new construction. Architectural Testing's suite of services allows for it to be the complete solution for product CONFIDENCE. For more information, visit http://www.archtest.com