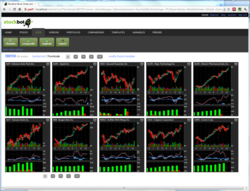 ... allows me to quickly page through the results, and zoom in on any stock charts that catch my eye.
Houston, TX (PRWEB) August 02, 2012
Tinybot Software has announced the beta release of Stockbot.net, a new website for viewing stock charts and conducting stock research.
Does the world really need another stock charting website? Yes, believes Rex H. Harrison owner of Tinybot Software. Frustrated with not being able to find all of the features he wanted in the current staple of stock charting web sites, he decided to create his own. What began as a 1 year project, ended up taking almost 3 years to complete.
"I wanted a website where I could view stock charts that included not only technical indicators, like moving averages, but also fundamental data, such as revenue and earnings per share. I also wanted to see my stock trades on the charts, so I could review my stock purchases, learn from my mistakes, and hopefully become a better trader", said Harrison.
A Better User Experience
Harrison believes many stock charting websites suffer from complicated user interfaces. With a passion for user interface design, Harrison believed he could do better.
"Putting a clean, easy-to-use interface on top of a complicated process is not an easy undertaking. Stockbot has already undergone several redesigns over the past two years, in a continuing effort to simplify the user interface", states Harrison.
Built Around Thumbnails
"Many stock screeners output results in a giant list or table", says Harrison. "With Stockbot, I wanted to view my portfolios, lists, and screen results as pages of thumbnail charts. This allows me to quickly page through the results, and zoom in on any stock charts that catch my eye."
Looking for Feedback
With this beta release of Stockbot.net, Harrison is hoping to receive lots of valuable feedback.
Stockbot.net is available for immediate use.
About Tinybot Software:
Tinybot Software is a Houston based software and consulting firm. It was founded by Rex H. Harrison, a graduate of Texas A&M, and a software developer with over 20 years of experience. Rex founded his first company, Vantage Software, in 1987 with Benny L. Parlan, a co-worker from Shell Oil Co. Together, they developed the Dynamic Surveillance System, a geographic information system for the petroleum industry. After successfully growing the company over 11 years, Vantage was acquired by Landmark Graphics, a subsidiary of Halliburton in 1998. As a stock market enthusiast, Rex was always dreaming of the perfect stock charting website. Finally, in 2009 he began work on Stockbot.net, and later formed Tinybot Software.