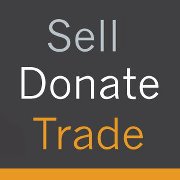 Charities have confidence in the fact that we are members of the British Jewellers Association, and the specialist fundraising expertise of our team.
Hatton Garden, London (PRWEB UK) 14 August 2012
Gold and jewellery fundraising service Sell Donate Trade has just launched a new support drive for UK charities, making fundraising from unwanted valuables even easier with an August donation offer and free marketing benefits.
In July charities responded enthusiastically to the company's pledge to donate an additional £5 to a donor's chosen charity for every donor pack accepted – with the potential to raise an average of £4,000 per 10 donors recruited.
To help charities maximise income during the quiet holiday months, the company's fundraising experts have now developed the offer even further. every single charity listed or newly registered with the site will benefit from an additional £10 donation made directly from Sell Donate Trade when a donor pack is accepted in that charity's name.
In addition the first 10 charities to register on the site in August will receive a free postal or email campaign managed by Sell Donate Trade - publicising the service and its benefits to 1,000 of their own donors. In addition the company will work with those 10 charities to develop and print their own bespoke Sell Donate Trade brochure for use amongst their own donor base.
This extends the fundraising capacity of the scheme significantly for all listed charities, as well as giving 10 charities valuable extra resources designed in collaboration with Sell Donate Trade's in-house fundraising advisors – who have more than two decades' combined experience in the charity sector.
Customers can choose to donate all of their items' value, donate a percentage of the value and keep some cash for themselves, or simply sell their items. Whichever option they select their chosen charity will still receive an additional £10 donation from Sell Donate Trade at no cost to the charity or the customer.
The scheme has been extended in response to increasing interest in the service from charities across the UK, as Founder of the Hatton Garden company Spencer Cohen explains.
"Since launching Sell Donate Trade we've experienced really positive feedback from the charity sector" he says. "Some of the largest charities manage their own gold and jewellery donations programmes – but for most charities the burden of handling valuations, security, administration and fulfilment make this an area they simply can't manage themselves. Plus many charities and consumers are not sure who they can trust in what is now a saturated industry. Charities tell me that they are delighted to be able to outsource their fundraising to Sell Donate Trade as they have confidence in our decades of Hatton Garden experience, the fact that we are members of the British Jewellers Association, and the specialist fundraising expertise of our team."
Registration on the site is completely free for any non profit organisation in the UK. Charities are encouraged to register early to boost their chances of being one of the first 10 who will enjoy a free mailshot and branded brochure – as well as benefiting from the guaranteed £10 donation for every pack accepted in the charity's name.
Charity registration: http://www.selldonatetrade.co.uk/register-your-charity
Consumer enquiries: http://www.selldonatetrade.co.uk
Press enquiries: Amy Hatton
07855 333 630
amy(at)sellcomms(dot)com