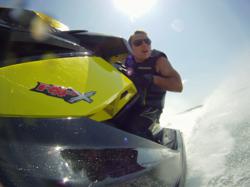 Melbourne, FL (PRWEB) August 03, 2012
BRP is visiting 28 popular family boating meccas across the United States this spring and Lake Erie, in Cleveland and Pontiac Lake in Detroit are the next stops. These events are free and open to the public. The Sea-Doo Life Test Ride Tour offers consumers the chance to experience the boating lifestyle and latest technologically advanced Sea-Doo watercraft and boats for free. Consumers can also register in the Share the Sea-Doo Life to enter to win a Sea-Doo GTX† S 155™ watercraft and MOVE iCatch trailer.
Consumers can find detailed event information and pre-register for specific events at http://www.seadoodemo.com for a custom time block on the day of their choice.
When: The Sea-Doo LIFE Test Ride Tour will be at the following locations this weekend:
Cleveland, Ohio: Lake Erie, Whiskey Island Marina on Lake Erie, 2800 Whiskey Island, Cleveland, OH 44102
Detroit, Mich.: Pontiac Lake Recreational Area, 7800 Gale Road, Waterford, MI 48327
Time: Friday, Aug 3: 1-5 p.m., Saturday and Sunday, August 4-5, 10:00 a.m. to 5:00 p.m.
Details: Visit http://www.seadoodemo.com or http://www.facebook.com/seadoo for the most up-to-date information regarding the Sea-Doo Life Test Ride Tour events and everything Sea-Doo!
The Sea-Doo Life events are free to the boating public and managed by the Sea-Doo events team - comprised of industry and product experts - and partnering, authorized Sea-Doo watercraft and boat dealers. Each Sea-Doo Test Ride Tour STOP is designed for both experienced and first time boating families to experience the Sea-Doo Life in a casual, fun filled atmosphere with fun to be had on land as well as on-water.
Event participants will be able to experience multiple models to best find the right Sea-Doo product to fill their watersport/boating life.
For a look at the new Sea-Doo watercraft and boats, visit http://www.sea-doo.com.