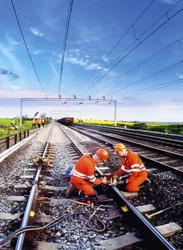 (PRWEB UK) 3 August 2012
Drinking water expert, PHS Waterlogic, has conducted bottled versus mains-fed water analysis to prove how Network Rail can reduce the carbon impact of its drinking water supply by 50 per cent. Total national savings for the rail infrastructure operator are estimated at over 1000 tonnes of CO2 over a five year period, thanks to a planned shift to majority use of mains-fed water coolers.
Network Rail commissioned PHS Waterlogic at the end of last year to assess its existing drinking water provision for its 35,000 staff. This provision was predominantly dispensed by bottled units, with 93 per cent of its water supplied in this way. A total of 1910 units have historically been deployed across Network Rail's sites, with just seven per cent point-of-use (POU), mains-fed delivery.
The calculated 50 per cent carbon reduction for Network Rail was based on a 13 per cent saving achieved by swapping bottled water units for mains-fed coolers. According to PHS Waterlogic, these POU units have a lower life cycle carbon impact per unit when compared to bottled equivalent. The further 37 per cent reduction was then calculated to be achievable by selection of efficient POU units, suitable to cope with higher demand than traditional bottled units. This, in turn, allows fewer units to deliver the required output, creating savings in raw materials, electricity, waste and carbon.
The comparison for Network Rail was based on cold water provision only, on medium consumption (160 litres per month per unit) and carbon emissions were calculated using the full life cycle of unit production, use, servicing and disposal over a five year period. The estimated future outputs were based upon a mixed provision of PHS Waterlogic's WL2500, WL3000 and WL4 mains-fed models.
Based upon the evidence supplied by PHS Waterlogic, Network Rail has now signed a contract with the company for the provision of its cold water drinking supply. Under this contract, the mains-fed units across Network Rail's estate will grow to 820 in number, representing 74 per cent of the operator's stock. Carbon emissions resultant from drinking water supply by Network Rail are now predicted to shrink from and estimated 2370 to 1176 TCO2e over five years; a 50.4 per cent output reduction.
"We are working hard to reduce our impact on the environment," said Marie-Helene Afrashteh, Sourcing Analyst of Network Rail. "We aim to put rail at the heart of a low carbon economy and constantly look for opportunities to reduce waste, increase renewable energy supply and use more sustainable materials. Innovations that can impact the entire network, such as the way in which we supply drinking water to our staff, are all part of our programme of proactive environmental improvement."
Mains-fed water coolers have already been proven to have a much lower environmental impact than their bottled water counterparts: Figures published by PHS Waterlogic in 2010 defined up to 72 per cent saving on Absolute Carbon Footprint over five years (kgCo2e) when comparing high water consumption (280 litres per month) fulfilled by the mains-fed Waterlogic WL2000 in place of bottled water. Adding to this advantage, the company advocates a reuse and recycling approach to routine servicing and filter replacement, to further enhance opportunities to reduce carbon footprint by swapping to mains-fed.
Commenting on the change in delivery for Network Rail, David Matthews, managing director of PHS Waterlogic, said; "As a company we aim to deliver a choice to our customers about the way in which they supply their drinking water. Our understanding of the carbon impact of this delivery demands that we demonstrate to our customers the environmental facts concerning their provision in order that they can make an informed choice. Whilst bottled water has some advantages in mobile delivery, mains-fed is undoubtedly the most environmentally friendly approach. For those who have concerns about taste or temperature, there is proven technology and equipment to purify, chill, heat and even carbonate, all from mains supply."