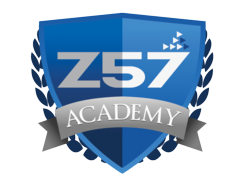 San Diego, CA (PRWEB) August 02, 2012
Z57 Inc., a leading provider of real estate internet marketing and social media services, announces the launch of the Z57 Academy Campus, a comprehensive online learning platform designed to complement the already successful one-on-one Z57 Academy training program. Built with the busy agent in mind, the Z57 Academy Campus provides Z57 clients with access to on-demand, interactive content that covers up-to-date marketing, mobile and social media strategies.
All Z57 Academy clients go through a series of one-on-one appointments with their ZPro Coach – a marketing expert dedicated to helping the client achieve their online business and marketing goals. The introductory coursework, known as the Z57 Academy 100 series, provides proven marketing strategies and guidance to agents who are looking to jump-start their marketing success. The addition of the Z57 Academy Campus adds even more value and convenience to the live training experience by providing course recaps, previews and additional bonus material to motivate clients throughout their Z57 Academy journey. As always, all Z57 clients also have access to unlimited support from a highly-trained team of Internet marketing experts.
"At Z57, we continually offer real estate professionals the most diverse and flexible opportunities to cultivate their marketing skills," said Z57 CEO Ryan Whitlock. "The launch of the Z57 Academy Campus is the next step in our aggressive plan to help agents navigate new marketing technologies. With the launch of the Z57 Academy Campus, our clients now have instant access to coursework that combines proven marketing strategies and guidance on how to use popular marketing platforms, such as social media mobile applications, to generate success."
Online courses have become a popular format for learning solutions among companies and schools alike as they allow for unparalleled convenience. With on-demand courses, real estate professionals can access the content at any time from any web enabled device. Furthermore, many studies have shown that the retention rate of material learned through interactive online modules is significantly higher than those learned through traditional teaching methods. Additionally, the combination of visual, text and audio components involved in online course material appeals to all learning styles, making it a universally effective method of teaching. With a combination of the personal touch involved in one-on-one training and the flexibility of on-demand coursework available on the Z57 Academy Campus, it's easy to see why Z57 is leading the real estate industry in smart internet marketing and social media training solutions.
About Z57 Inc.
Founded in 1998, San Diego-based Z57, Inc. is an internet marketing company for real estate professionals. Z57 specializes in providing complete marketing solutions including optimized websites, lead capture tools and internet marketing training through Z57 Academy. Recognized as San Diego's No. 1 Web Development and Design Company for 10 consecutive years, Z57 provides thousands of clients with proven solutions and personal service. For more information about Z57 Inc., visit http://www.Z57.com.