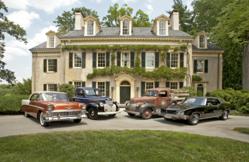 Wilmington, DE (PRWEB) August 02, 2012
Hagley Car Show Features Antique Automobiles from 1900s through 1980s
The Hagley Car Show returns on Sunday, September 16, 10 a.m. to 4 p.m. Visitors may browse more than 500 antique and restored cars, trucks, and motorcycles. This year's special feature is pick-up trucks. Parking for the Car Show is on site. Advance wristbands at a discount may be purchased in the Hagley Store or http://www.hagley.org beginning August 15. Wristbands may also be purchased at the Car Show.
The earliest vehicles resembling today's pickup trucks were produced for the military during World War I. Both Chevy and Dodge were producing pickup trucks for the public by 1918. This year's feature section of the show field will include examples of these earliest American pickup trucks.
In addition to perusing the antique trucks and cars on display, visitors can also try pedal-powered go-kart racing and NASCAR simulator, watch vehicle parades, enjoy motoring music and festival food, and delight in walking around a room full of fabulous operating vintage jukeboxes.
Admission and Parking Details
Parking for Hagley's Car Show will be on site. Visitors can enter through Hagley's main entrance off of Route 141. Wristbands to the show will be offered in advance. Wristbands are available at the Hagley Store or http://www.hagley.org from August 15 through September 10 (online) or September 15 (store). Pre-event wristbands are $8 adults and $4 children six through fourteen. Wristbands purchased at the Car Show will be $10 adults and $5 children six through fourteen. Admission is free for Hagley members and children five and under. The event will be held rain or shine.
Sponsorship
The Hagley Car Show is sponsored, in part, by the support of the following car clubs: Brandywine Region Antique Automobile Club of America, Chester County Antique Car Club, Historical Car Club of Pennsylvania, Historical Vintage Car Club of Delaware, First State Corvair Club, and First State Mustang Ford Club. The display of antique juke boxes is made possible by the American Historic Jukebox Society.
Hagley Museum and Library collects preserves, and interprets the unfolding history of American Enterprise. For more information, call (302) 658-2400 weekdays or visit http://www.hagley.org.
CONTACT:
Meg Marcozzi, Hagley Museum and Library Marketing Manager
(302) 658-2400, ext. 238 mmarcozzi(at)hagley(dot)org