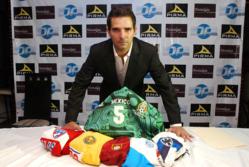 This profession has been my life and it will remain this way forever. Thank you all for your words, a cycle was closed today, but another one will open.
(PRWEB) August 14, 2012
After 18 years of a successful career, Davino's held a media conference in Leon, Mexico a few days ago to thank those important key people that helped him in his career, such as his parents, and wife in front of the media, family, friends and agent Jorge Villalobos, CEO from SportsMarketing Monterrey.
"Today is a very important day in my life, I've decided that this is the right and appropriate time for me to retire from this beautiful sport that I love, soccer," Davino commented.
Davino will start a new phase in his life and career. He will no longer be a leader inside the soccer field, but will begin to influence and work on a different roll of the soccer industry very soon.
About Duilio Davino
Davino played for 10 years with Club America, one of the best teams in Mexico, accomplished 5 Mexican National Championships, 3 with Club America, 2 CF. Monterrey and 1 with Tecos. He was also a fundamental player for their teams to win in 2006 and 2010 the CONCACAF COPA and LIGA de Campeones with Club America and CF. Monterrey respectively. He has been named the best player of Mexican league twice, last time in 2010. With over 73 match games with Mexican National Team, World Cup 1998 and Olympic Games 1996.
Davino played in 7 professional Teams: Tecos (93-97), Club America (97-07), FC Dallas (USA /08), Puebla FC (09), CF Monterrey (09 / 11), Estudiantes Tecos (2012).
About Sports Marketing Monterrey
Founded in the city of Monterrey, México by successful brothers Javier Villalobos and Jorge Villalobos with offices in United States. Sports Marketing Monterrey is focused on providing consulting and business development services to companies, governments and sports clubs, in addition to representing athletes internationally managing their career and image rights.
In the United States, Sports Marketing Monterrey focuses on helping companies, Non Profits, Pro-Teams, athletes and governments to connect with the Hispanic market in meaningful ways.