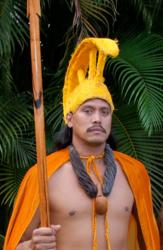 "This is a wonderful chance to discover time-honored Native Hawaiian traditions, protocol and practices during any of the Kauai Aloha Festivals events ... Stella Burgess, Director of Hawaiian Culture, Grand Hyatt Kauai Resort and Spa
Kauai, HI (PRWEB) August 06, 2012
A series of events intended to perpetuate the Hawaiian culture are lined up over late August, September and October grouped under the banner, Kauai Aloha Festivals. Formerly known as Aloha Week Festivals, the events showcase Hawaiian music, dance, cuisine, arts and cultural practices. All feature presentation of Kauai's Royal Court, with the investiture of the court on August 25th. Each event is found at different locations around Kauai. Some events are part of larger multi-day festivals like the Mokihana Festival(September 16 – 22) and the Na Lima Hana Festival (October 18 – 20). Many events are free of charge to the public. For complete event details, go to http://kauaialohafestivals.com.
Event locations include Smith's Tropical Paradise, Kapaa First Hawaiian Church, Kauai Beach Resort, Kauai Marriott, and the Grand Hyatt Kauai Resort and Spa. Kauai residents and visitors will be able to observe time-honored protocol and traditions in association with the Hawaiian culture as well as experience a broad range of Hawaiian dance, music and food. Kauai Aloha Festivals commemorative ribbons will be available for purchase at several locations.
Kauai's Royal Court is selected and invested annually among individual applicants who are dedicated to perpetuating the Native Hawaiian culture. Becoming a member of the royal court requires knowledge of Native Hawaiian cultural practices, particularly with respect to understanding the importance of protocol in Native Hawaiian values. Being a member of the court also requires a dedication to appearing at numerous events and ceremonies on Kauai. For more information on Kauai's royal court, contact Lyah Drake, kauaialohafest(at)yahoo(dot)com or 808-346-6924.