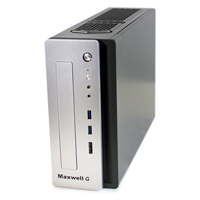 Maxwell G has all the simplicity and functionality that everyone loves with Mini Maxwell, with the addition of one Gig interfaces.
Scotts Valley, Calif (PRWEB) August 07, 2012
Maxwell G
The newest network emulator in the Maxwell product family offers more capabilities for simulating real-world conditions that affect application performance for embedded systems and network applications. With the new, one gig Maxwell G network emulator, testing limits of a device or application's performance is faster and easier than before.
Maxwell G has an easy to use web-based graphical interface so you can emulate adverse network conditions quickly and easily (compared to cryptic command line interfaces). Five minutes is all you need to configure and set up Maxwell G. Evaluate new applications under adverse conditions in your lab before deployment. Create "what if scenarios" by applying standard impairments such as drop, delay, jitter, or corruption to network traffic. This recreates conditions such as congestion, bandwidth limited links, mis-configured routers, etc.
Security
With network security and vulnerability issues an all-too-frequent occurrence in today's headlines, IT and quality mangers are very aware of the risks posed by test equipment. Often test equipment fails to support secure web access or even monitoring, leaving test devices vulnerable. Maxwell G supports RADIUS to authenticate users for controlling network access.
Service
InterWorking Labs offers consultations and complimentary training sessions worldwide via web-conferencing to meet their clientele's needs. Maxwell G comes with a standard 90 day warranty coverage; an additional twelve or twenty-four month service agreement will provide software updates and hardware replacement in the event of a hardware failure.
Availability and Discount
The application performance industry is already familiar with InterWorking Labs' portable network emulator, Mini Maxwell–now in its fifth year of shipment. The code base between Mini Maxwell and the new Maxwell G is essentially the same, with adjustments made to accommodate one gig capacity.
Well beyond its alpha-testing phase, Maxwell G is ready for a few more BETA testers before general release. A substantial 20% discount (almost $1000.00 off) is available to BETA testers in the United States until September 16, 2012. Further information about InterWorking Labs' BETA Tester Program can be obtained by contacting sales(at)iwl(dot)com or (831) 460-7010 x102.