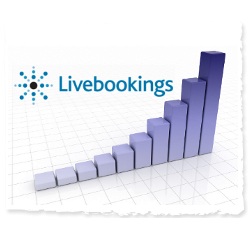 (PRWEB UK) 1 August 2012
Despite turbulent trading conditions; including the wettest second quarter in the UK since records began, the Eurozone crisis and the Queens Diamond Jubilee, Livebookings, the European leader in online reservation and marketing services for restaurants, revealed a record 878 new restaurants were signed up in the second quarter of 2012, including 705 in Europe continuing the rapid adoption of its market leading cloud-based reservation solutions.
The sales growth has been fuelled by Livebookings aggressive product development and competition focused sales strategy, with four new products launched in the second quarter alone. New services include; the Bookatable App and the 'Professional' cloud-based reservation service.
Colin Tenwick, CEO, Livebookings said: "We have invested consistently in technology and product development over the last year and the return on that investment is showing through. Restaurants are adopting our product portfolio in record numbers and switching from competitors. We consistently deliver more diners to restaurants in Europe than anyone else: In Q2 2012 we delivered 3.7m seated diners – up from 2.6m in Q2 2011 (3.7m in Q1 2012). This success is reflected in our quarterly revenue - up on last year and sequentially strong."
Notable competitive wins for Livebookings in the UK include DSTRKT London; recently named Best New London Restaurant and Club at the London Club and Bar Awards.
Plamen Yankov, Restaurant Manager, DSTRKT said "Bookings from our website have massively increased since moving from OpenTable to Livebookings. In fact 60% of our bookings come from our website and we expect this to continue growing. We have found that since we have signed up to Livebookings we are attracting more customers that we previously didn't have before. With exclusive marketing via Bookatable, we have attracted more customers with a higher spend per head and who visit on a more regular basis."
Competitive wins in Germany included the most booked restaurant in Bavaria; The Grill in Künstlerhaus and Brasserie Oskar Maria. In Hamburg Livebookings won the business of Brasserie Flum and Piazza Romana and Calwer Eck Bräu in Stuttgart.
Livebookings anticipates the strong sales growth momentum to continue throughout the last two quarters of the year as both the European economy and trading environment stabilise and restaurants look to recoup sales lost as a result of what has been a disruptive start to the summer.