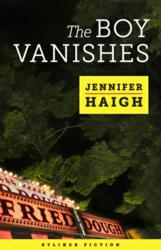 New Byliner Fiction by Jennifer Haigh
San Francisco, CA (PRWEB) August 01, 2012
From New York Times bestselling author Jennifer Haigh comes The Boy Vanishes, a keen reimagining of a whodunit in which everyone is implicated and no one is safe. Just published by Byliner, the digital publisher of authors such as Amy Tan, Nick Hornby, and Ann Patchett, Haigh's tale is a taut, powerful piece of work, novelistic in its scope and intensity.
It's the summer of 1976 on the South Shore of Massachusetts. The Bicentennial is a season-long celebration, and flags are everywhere, snapping in the seaside winds, ironed onto T-shirts, tattooed into biceps. Tim O'Connor works the Cigarette Game booth at Funland—toss a quarter placed on an eight-sided ball into the right slot and you win two packs of smokes or maybe, if you're lucky, a carton. If asked his age, he'd say he's seventeen, but in truth he's fourteen. Yet the kids in blue-collar Grantham—a town first imagined by Haigh in her devastating bestseller Faith—grow up fast, are known for being wild, and more often than not drop out of school to punch the clock at the nearby Raytheon plant.
When Tim disappears after the park's closing one night, no one makes much of it till late morning. It's not the first time his mother, Kay, has forgotten to pick him up. It's not the first time he has stayed out all night. By the time local cops begin their investigation, there is little trace of the boy, only witnesses to a complicated set of relationships in a place where surviving isn't always thriving and where disappointment mixes with the salt in the air.
In this superbly crafted story from a writer the New York Times calls "an expert natural storyteller with an acute sense of her characters' humanity," the search for a missing boy becomes a search for the American dream, laying bare how destructive its promises often are. Recalling Dennis Lehane in setting and subject and masters like Graham Greene and Richard Ford in tone and style, Haigh's latest work is a testament to all that short fiction can be. It's a searing portrait of how much a community loses when one of its own is lost.
ABOUT THE AUTHOR
Jennifer Haigh is the author of three New York Times bestselling novels, Baker Towers, The Condition, and Faith. Her first novel, Mrs. Kimble, won the PEN/Hemingway award for debut fiction, and Baker Towers won the L.L. Winship/PEN award for outstanding book by a New England author. Her stories have appeared in The Atlantic and Granta, and her short story collection News from Heaven will be published by HarperCollins in September 2013. She lives near Boston.
Byliner publishes compelling works of original fiction and nonfiction written to be read in a single sitting. Among its bestselling titles are Jon Krakauer's Three Cups of Deceit, Taylor Branch's The Cartel, William Vollmann's Into the Zone, Margaret Atwood's I'm Starved for You, and Elizabeth Kaye's Lifeboat No. 8. The companion website, Byliner.com, features curated archives of great fiction and nonfiction writing and allows readers to easily find, share, and buy new and classic stories by their favorite authors.
The Boy Vanishes is available for $1.99 as a Kindle Single at Amazon, a Quick Read at Apple's iBookstore, and a NOOK Snap at BN.com.
For a review copy or to schedule an interview with Jennifer Haigh, please contact Clare Hertel at clare(at)byliner(dot)com; 505-474-6783.
###