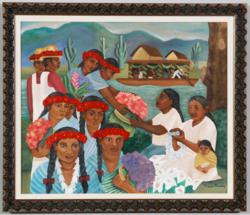 Beverly, Massachusetts (PRWEB) August 03, 2012
Kaminski Auctions is pleased to announce the results from the July 20th Century Decorative Arts Sale. Offering an exciting collection of modern items from furniture and household objects to fine art, books, and collectible pieces, the collection attracted a diverse audience of bidders. Kaminski Auctions was thrilled, as always, to field interest from online bidders as well as to host a new group of clients composed largely of enthusiastic modern collectors.
The four top lots from the day were works of art. A gouache on paper work by Diego Rivera (Mexican 1886-1957) was the top seller. Considered one of the most significant contemporary Mexian artists, Rivera was influenced by the Cubism movement in Europe, specifically the work of the artist Picasso, Cezanne, and Renoir, and later, his work as a muralist. The artist is also known for his tumultuous marriage to fellow Mexican artist, Frida Kahlo. The important work, which is titled "Mercado de Flores", signed 1927 and includes booklet of documentation, including original sales invoice from 1944 and a copy of the working sketch, captured $9,700.
Several pieces by Rhode Island-based artist Dennis Akervik Coelho (b. 1968) were on offer. The top selling piece by this artist was his oil on canvas work, "Puffer Fish", earned $9,000 on Saturday. A work by David Alfaro Siquerios (Mexican, 1896-1974) depicting an abstract tree achieved $7,000, and a harbor scene by artist Bernard Buffet achieved $4,100.
Kaminski featured another artist with local prominence in their recent modern sale. David Aronson has lived and worked in the Boston area for decades. A graduate of the School of the Museum of Fine Arts Boston, and later a professor at Boston University and founder of the university's art gallery, Aronson has earned respect around the city of Boston, and his popularity continues to grow as he appears in many galleries and museums around the Untied States. Kaminski Auctions has featured bronze works by this artist in the past, and on Saturday, a bronze plaque by Aronson sold for $3,630.
Among the many decorative items in the sale, a Handel Table Lamp achieved $2,450, and a Le Verre Français Cameo Glass Table Lamp, achieved a sale of $2,400. A sculpture by Mexican-American artist Feliciano Bejar (1920-2007) also realized an important price on Saturday. One large Magiscope Sculpture made up of reclaimed steel automotive parts and cut crystal sold for $1,520.
Kaminski Auctions was excited to highlight several pieces of Hans Wegner furniture in this 20th Century Decorative Arts sale, each of which realized impressive prices. The set of six side chairs sold for $2,040 and the two-piece hutch sold for $1,920. The featured piece of the auction was a pair of armchairs, nicknamed "The Chair," which sold for $1,800. Used in the September 26, 1960 Kennedy-Nixon debate, these chairs have become an icon of the era.
20th Century Modern specialist and appraiser Nathan Russell expresses his excitement for the next modern sale: "We are looking forward to our October sale for which we are currently taking in consignments. Some highlights of this sale include another significant collection of Hans Wegner furniture, including a number of early branded Wishbone Chairs in superior original condition, Danish Mobelfabri stools and shelving units, a large number of late 50's early 60's modernist canvasses, Scneider, Venini, and Kosta art glass, all from the Estate of a North Shore MD who collected throughout the late 50's and early 1960's. Much of this material will include either the original sales invoice, saleroom tags, or gallery label, which were kept by the original owner. Other promising early arrivals include a 6" decorated Marblehead vase with a gray ground and blue trees in pristine condition, and a significant early 20th C large scale folk art dollhouse."
Kaminski Auctions, located on the North Shore of Boston, has been serving the New England antiques market for over 25 years as a full service auction house and appraisal service for fine art, antiques and estates. With two locations in Beverly, Massachusetts, including a new state of the art auction gallery located at 117 Elliott Street, and a historic 1850's barn and office facility at 564 Cabot Street, Kaminski Auctions hosts 16 auctions a year. We have highly trained and knowledgeable appraisers on staff that will help you determine the true value of your antiques, or entire collections. Free Appraisal days are offered every Tuesday from 10:00am-4:00pm at our 564 Cabot Street location in Beverly, Massachusetts.