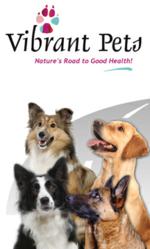 A-List Celebrities and their infamous pooches get exclusive HollyWOOF gift bags from Distinctive Assets annual gifting with the newest electrifying dog products of 2012!
Berryville, VA (PRWEB) August 09, 2012
Canine Athlete is a powerful pet supplement loaded with five powerful probiotics, digestive enzymes, amino and fatty acids, along with vitamins and minerals.
Vibrant Pets unique immune system boosting formula is the most powerful and cost effective pet supplement on the market today.
Twenty five of today's favorite Hollywood celebrities and their pets will receive HollyWOOF A-List Doggie Bags.
Such icons as Cesar Milan, Fergie, Miley Cyrus, Justin Timberlake, Rachael Ray, Mario Lopez, and Oprah Winfrey will receive the exclusive gift bags this summer.
The full line of Vibrant Pets products are manufactured in America by a combat related disable veteran owned company.
The formulas for dogs, cats and horses have been developed with feedback from small animal and equine Veterinarians, animal and human Nutritionists, and animal feed experts.
Unlike other pet supplement products that address pets' health symptoms, Vibrant Pets addresses the cause of pet health issues by boosting their immune system and providing additional support for their joints, muscles, skin and coat.
Vibrant Pets holds a register trademark, and the unique formula is patent pending, awaiting final patent approval. Vibrant Pets mission is to, "Boost the natural power within pets through their nutrition. So they maintain optimum health, and overcome most common and chronic health issues."