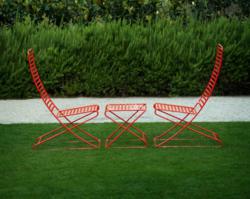 Kalamazoo, MI (PRWEB) August 01, 2012
Landscape Forms always has the most modern and exquisite outdoor furniture to choose from. Their products are environmentally sufficient, whether using LED lighting to reduce energy or furniture that is corrosion resistant. Landscape Forms continues introducing modern outdoor chairs and tables with the new addition of designer John Rizzi's Parc Lounge and Ottoman. Rizzi's latest design expands his Parc Centre collection of furniture.
The Parc Lounge and Ottoman is simple in design, but the curved back of the chairs provides comfort to lounge back or sit upright. It's the perfect balance. Lounging is ideal for reading or talking with friends. The ottoman can be used as a foot rest or as an additional seat. Since the ottoman isn't too low, it can also be used as a table. The Parc Lounge and Ottoman is the sturdiest of structures. At first look, buyers will be intrigued by how this straightforward look is so strong.
John Rizzi structured the chairs as sled bases making them easy to move around in the grass of your garden or the hard surface of a patio. Rizz's Parc Lounge and Ottoman isn't the first design in the Parc Centre collection to be sled based or easily stackable, which makes all the furniture in the collection easy to store in the winter.
The Parc Centre collection as a whole offers various options for armed or armless chairs, in addition to round tables to add to the lounge and ottoman set. In this minimalist concept, landscape designers are raving about the Parc Centre collection. Designers see how versatile the furniture is. The options for creating a welcoming space are endless.
Landscape Forms' designers are sought after by many. John Rizzi has accomplished the post-modern style other designers look for. Rizzi and other designers have created new ideas on old designs without letting quality be compensated. Landscape Forms is the leader of quality outdoor furniture.
For more information about John Rizzi's Parc Centre collection and the new addition click through to Parc Lounge and Ottoman at the Landscape Forms Website
For further design options of outdoor furniture and lighting, visit Landscape Forms' main website at: http://www.landscapeforms.com.