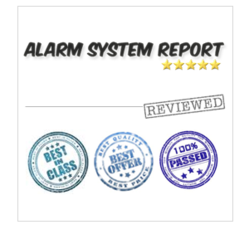 Texas has lots of alarm system companies competing for business, but there are a few that really stand out as leaders in the Texas market.
Reston, VA (PRWEB) August 19, 2012
AlarmSystemReport.com's experts have finished their 2012 analysis and the top Texas alarm system company rankings are now posted. Texas professionals with expert backgrounds in the alarm system industry were chosen to perform home security audits on all of the top Texas alarm system companies. After an exhaustive process, the experts found eleven top home alarm systems companies worthy of a recommendation from AlarmSystemReport.com.
These companies were ranked based off of the quality of their technology, customer service, warranty periods, and installation prices. AlarmSystemReport.com has found that the five star rating system is the easiest and most popular system for consumers to base their opinions on and has thus adopted their own.
The five star rating system gives AlarmSystemReport.com the ability to incorporate consumer ratings from the top social sites into their reviews. This means that in addition to the expert opinions, AlarmSystemReport.com readers also get the benefits of other consumer's rankings without having to read through all of them.
This year, AlarmSystemReport.com ranked three companies at a three and a half star rating, three companies at a four star rating, four companies at a four and a half star rating, and one company at a five star rating. These rankings were completely unbiased and were based solely off of a special alarm system review process.
For instance, the FrontPoint reviews found that this company had all of the top home security technologies, a great customer service history, and a free DIY installation process. As a result, AlarmSystemReport.com was left no choice but to give them a five star rating.
Conversely, Protection1 was found to have a less than stellar customer service department, mediocre home security technology, and a lack of DIY options. Because of these factors, AlarmSystemReport.com was forced to downgrade them to a three and a half star rating.
Of course, readers should know that a low rating on AlarmSystemReport.com doesn't mean that the company is a bad company to do business with. AlarmSystemReport.com only ranks companies that meet AlarmSystemReport.com's minimum requirements. If a company is listed on AlarmSystemReport.com, you know that this company is worth considering. A low rating just means that the company may need some improvement in certain areas.
Texans looking for a good deal should head on over to AlarmSystemReport.com to get a quote through the website. AlarmSystemReport.com has arranged for Texans to get up to 35% off of the regular price simply by buying through their website. To get this discount and to see the best Texas alarm system companies, please visit AlarmSystemReport.com.
###