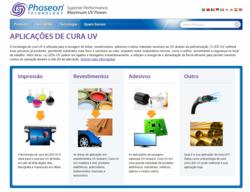 Hillsboro, OR (PRWEB) August 02, 2012
To support the increased demand of international markets, Phoseon is pleased to announce the launch of eight new international language websites. The new sites will allow customers all over the world to better access information on UV LED curing solutions for the growing market. This new online expansion will target various growing markets in Asia, Europe and South America. The launch of these new language sites will improve our ability to serve our existing customers in those regions and attract new customers.
These new websites will target the following countries: China, Japan, Korea, France, Germany, Italy, Spain and Brazil.
About Phoseon
Phoseon Technology is a world leader in providing UV LED solutions for commercial and industrial applications. Phoseon's products offer superior performance, integrated control and real-world reliability for UV LED curing of inks, coatings and adhesives. The Company provides worldwide sales and support capabilities and can be reached at [http://www.phoseon.com.