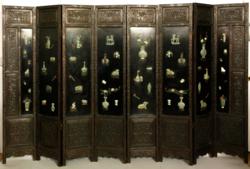 Beverly, Massachusetts (PRWEB) August 03, 2012
Kaminski Auctions presents its August Asian Works of Art sale to be held, Saturday August 11th, at 10AM at 117 Elliott Street, Rte 62 Beverly, Massachusetts.
Featured in this sale are a varied collection of paintings, most notable is a wonderfully detailed painting by the British painter Brian Cole (b.1939), of Hong Kong Harbor, oil on panel valued at $7000-$12,000.
Fine furniture in the sale includes a pair of horsehoe Huanghuali wood chairs with a high estimate of $10,000 and a Huanghuali and boxwood desk, 19th century from China, having intricately carved ivory inlaid scenes with pagodas and gardens, and a dragon and floral carved design, valued at $4000-$7000. There are also eight panels of Chinese wood screens, inlaid with jade and other semi-precious stones, in the form of flower vases and foo dogs mounted on dark wood with intricately carved scroll designs framing the central panels. The panels are one of the top valued lots in the sale with an estimate of $10,000-$15,000.
The featured lot on the cover of the sale flyer, is a magnificent early 18th century, Yung Cheng ceremonial China trade candle holder of 950 silver with inlay of carnelian, Persian turquoise and ivory with an intricate coiled dragon design on the base, also estimated at $10,000-$15,000.
One of the more unusual pieces up for auction this August, is a Japanese piece of ivory and bone, intricately carved into a large boat in full sail, carrying the figures of the seven gods standing on deck, with coral accents, and a matching carved wood base. The piece stands 31"high x 27"wide and is estimated at $10,000-$15,000.
The sale includes a wonderful pair of Chinese incense holders of pale green jade, intricately carved with trees and houses, standing 12 inches high and a large Chinese jade horse, of very dark green jade in the form of a horse lying down. It is presented on a wood base, 17" x 21" x 10" and is estimated at $8,000-$12,000. There is also a Ruyi scepter, from China, of carved spinach green jade, decorated with trees and figures, 16 inches in length with a $5,00-$8,000 dollar estimate.
Chinese porcelain for sale includes an excellent pair of Qing Dynasty vases with the Kangxi mark on the base, with a blue glaze and orange foo dog design, valued at $8,000-$12,000 and many lots of rose mandarin, including a wonderful pair of 19th century rose mandarin garden seats, decorated with birds, butterflies and flowers, and continuous family scenes in the center panel. They were originally purchased from Ian Conn of London. Included also is a Wucai vase, of triple gourd form with blue and white floral motifs that stands 13 1/8"high and is estimated at $4000-$6000.
A very large impressive Huanghuali wood brush pot, a cloisonne censor, a large 19th century Thai Buddha, more than 20 lots of netuskes and much more adds a wonderful variety to this special sale.
Preview for this sale will be held Wednesday, August 8th - Fri, August 10th 10AM - 5PM and day of sale beginning at 8AM. Also by appointment by contacting Asian Antiques specialist and appraiser Ben Wang at bwang(at)kaminskiauctions(dot)com. For more information go to http://www.kaminskiauctions.com or call 978-927-2223.