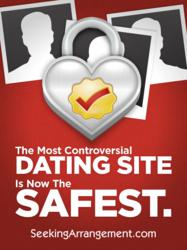 Most online dating websites do not conduct background checks, while major dating websites merely conduct database checks, leaving users susceptible to fraud.
Los Angeles, CA (PRWEB) August 01, 2012
Every year, thousands of Americans fall victim to online dating fraud. According to the Internet Crime Complaint Center, in 2011 alone, more than 5,500 romance scams were reported at a loss of approxmately $50 million. Over 90 percent of online dating crimes, including date rape, assault, solicitation, blackmail, and financial scams, are never even reported.
Major online dating websites, such as Match.com and eHarmony.com, run basic checks of their members against sex-offender databases. At times, these checks can be inaccurate, noncurrent, or limited. Today, SeekingArrangement.com becomes the first online dating website to offer a comprehensive background screening solution that promises to make online dating safer.
"Currently, we expel almost a thousand profiles belonging to fake users and scammers each month," says Brandon Wade, the Founder and CEO of SeekingArrangement.com, SeekingMillionaire.com, MissTravel.com, and WhatsYourPrice.com. "By offering a comprehensive background screening solution, members can now choose to date only those who are verified to be crime free."
SeekingArrangement.com, through its partnership with background screening authority, TC logiQ, has launched a background verification solution with a five-step screening process. This online application will confirm personal data to detect fictitious claims and check for convictions or imposition of any criminal sentences. These sentences include sex crimes, assault and/or battery, violent crimes, and domestic crimes. Members who pass the screening process will be given a "Verified" badge on their dating profile.
"The recent sexual assault incident involving two people who met on Match.com is a harrowing reminder of the dangers online dating presents," says Thomas C. Dantzler Jr., President and CEO of TC logiQ. "Most online dating websites do not conduct background checks, while major dating websites merely conduct database checks, leaving users susceptible to fraud."
California, Florida, Michigan, New York, Ohio, Virginia, Illinois, and Texas are amongst the growing number of states that proposed bills to regulate online dating. Some require background checks, as well as safety tips and advice--features that SeekingArrangement.com already provides to its members.
"I have taken the constructive criticisms to heart, and this is the next step in helping sugar daddies and sugar babies differentiate the 'Sugar' from the 'Splenda'," says Brandon Wade. "By the end of summer, the same screening solution will be made available on all our dating websites, including WhatsYourPrice.com and MissTravel.com."
For more information regarding background checks, please visit SeekingArrangement.com/verification.php. For interview requests, please contact Leroy Velasquez at press@seekingarrangement.com or call (702) 635-2440.
About SeekingArrangement.com
SeekingArrangement.com is the world's largest sugar daddy dating website that has been featured in the New York Times, CNN, MSNBC, ABC, CBS, and Dr. Phil. Launched in 2006, the website currently boasts over 1.6 million members worldwide. SeekingArrangement.com is founded by Brandon Wade, an online dating expert, author and entrepreneur who also started SeekingMillionaire.com - the leading millionaire matchmaker online service, WhatsYourPrice.com - the first and only online dating website where singles can buy and sell first dates, and MissTravel.com - the first travel dating website where attractive people travel free.