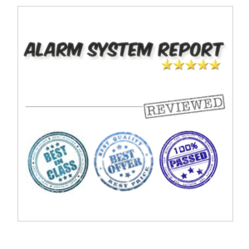 No one likes wires anymore, so we're helping consumers find the best wireless solutions for home security. Companies that don't offer these solutions are starting to scramble to add it.
Reston, Virginia (PRWEB) August 27, 2012
AlarmSystemReport.com has finished its wireless alarm system reviews and the top three companies have been named. Each year, AlarmSystemReport.com has security experts independently audit all of the top home alarm system companies. They rate them on customer service, technology, ease of use, and a few other criteria.
Once the main ratings are in, AlarmSystemReport.com breaks these ratings down into categories such as the best DIY alarm system security company and the best wireless alarm system company. This home alarm system review is done by ranking the actual alarms as well as the way the companies implement the use of these alarms.
This year, the top three wireless alarm system companies are Vivint, Protect America, and our winner. These companies all had great wireless alarm systems for their customers to choose from, but each had particular strengths they brought to the table.
Protect America
AlarmSystemReport.com found that Protect America had great upfront costs on its alarm systems. Out of all three companies, Protect America had the lowest priced wireless system. The drawback was that the ongoing cost of ownership was not quite as reasonable as Vivint or our winner. In addition to this, AlarmSystemReport.com's experts felt that the customer service was not as good as it could be.
Vivint
Vivint home security was named as one of the top three because of its advanced technology. Vivint's innovative touch screen control panels are a great move towards making home alarm systems friendlier and easier to use.
The only negative that AlarmSystemReport.com could find concerning Vivint is the fact that their customer service has just been revamped and their equipment manufacturer is new to the industry. This means that Vivint could end up being a bad deal in the long run. Of course, this could also mean that Vivint turns out to be a fantastic deal as well. The problem is that this newly rebranded company is just too young for anybody to know enough about them.
Our Winner
Please visit AlarmSystemReport.com to see who we named as the best wireless alarm system provider on the market. The company is already known for stellar customer service and a great DIY product, so it was no surprise that they have also excelled in technology. This company offers alarms that are 100% wireless and 100% cellular.
To read more about these three companies, visit AlarmSystemReport.com.