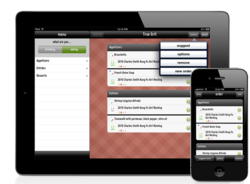 making the very best of any food and wine experience
Portland, OR (PRWEB) August 03, 2012
Portland, Oregon, based software development company Radical Barrel launches ZiNG!, the app. Available for iPhone and iPad, the app is a consumer friendly food and wine pairing aid with an added commercial aspect, it helps wine distributors and producers direct the consumer towards the best food matches to pair with their wines and also helps anyone working from the food side recommend the best wine pairing for their menu selections.
The ZiNG! app's recommendations are based on chemistry. Chemistry is the reason why your favorite wine may taste great by itself, but not so great with your favorite meal. By identifying the elements within wine: acidity, viscosity, fruit, sugar, alcohol or tannin and understanding the relationship between those elements and the dominant food components in a particular dish, the ZiNG! app is able to recommend wine and food pairings that compliment each other, making the very best of any food and wine experience.
Wine distributors can use the ZiNG! app to build a custom list of their wines, creating an exciting sales aid for their sales team. The personalized app provides a framework for the distributor to collaborate with customers and to confidently select appropriate wines for a restaurant's food pairings.
Restauranteurs can store both their menu and their wine list on the ZiNG! app creating a tool that helps highlight optimal wine and food pairings and develop a food and wine menu that's full of great experiences.
The ZiNG! app is also a great training tool for both distributors and restauranteurs interested in stimulating associates and colleagues about pairing food and wine.
The ZiNG! app is available in the App Store.
Radical Barrel is a Portland, Oregon based software development company that designs software applications for tablet and mobile devices.