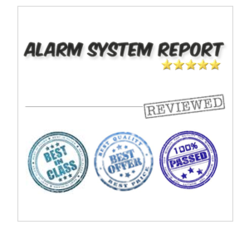 Virginians can should look at the leaders in the home alarm industry when finding a solution to keep their home and family safe. Alarm System Report provides robust unbiased reviews that are written by alarm industry experts.
Reston, VA (PRWEB) August 18, 2012
Most big alarm companies have a nationwide footprint and can provide customers in each state with an alarm system. This being said, AlarmSystemReport.com has found that some alarm system companies provide better service in some states. For this reason, AlarmSystemReport.com reviews each alarm system company by state.
This year, the experts at AlarmSystemReport.com found eleven companies that provide adequate service to Virginians. These companies all meet AlarmSystemReport.com's strict minimum requirements for customer service and technology.
The eleven companies named this year are FrontPoint Security, Protect America, ADT Security, Vivint Home Security, Broadview Home Security, SafeMart Security, Guardian Protection Services, Pinnacle Home Security, LifeShield Home Security, AlarmForce Home Security, and Protection1 Home Security. These companies have all been rated and ranked and are listed in order of highest to lowest.
Number 1
It came as no surprise that FrontPoint Security secured the number one spot for Virginia's best home security company. This company is based out of Virginia and provides great customer service to both its Virginia customers and it's out of state customers.
In addition to great customer service, this company has outstanding equipment and technology. AlarmSystemReport.com found that FrontPoint Security's new geo targeting technology gives customers a more personal solution than any other home security technology on the market.
This technology can monitor a person's cell phone location and alarm system to determine whether or not the person has remembered to turn on their alarm system. If the person has left their home without turning the alarm system on, the phone will then remind them to turn it on. The customer can then turn the alarm system on right from their smart phone.
Innovative technology, great customer service, and home field advantage left AlarmSystemReport.com with no choice but to name FrontPoint Security as one of the top alarm systems in Virginia.
Other Options
Customers who would like to see what else Virginia has to offer can search through AlarmSystemReport.com's expert reviews. They'll find ADT reviews on a national level as well as a state level. This doesn't just apply to ADT either. Visitors who search through AlarmSystemReport.com will find reviews on all of the top alarm companies on the market broken down by state.
Alarm System Report also offers its readers the ability to get a quick quote from all of the top alarm companies. In fact, AlarmSystemReport.com can save customers up to 35% on their new alarm system.
Visit AlarmSystemReport.com today and read out best home alarm system reviews for Virginia.
###