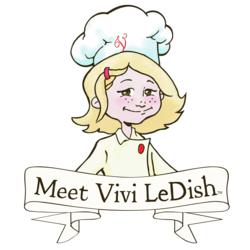 "The idea behind Vivi LeDish is to empower kids with life skills before health problems or unhealthy habits begin," said Nicki Mason, co-founder and co-creator of ViviLeDish.com
Chicago, Illinois (PRWEB) August 03, 2012
With home-economics phased out of schools, an online program designed to teach 3-8 year olds basic kitchen and wellness concepts is finding a growing following among the culinary community, parents, and health-minded alike.
Recent celebrity chef contributions expand Vivi's Cookbook, a growing catalog of over 200 child-friendly recipes that require five ingredients or less, teach basic cooking techniques, and encourage families to eat a variety of foods. Ina Garten, Guy Fieri, beloved St. Louis favorite Helen Fletcher, and "French Kids Eat Everything" author Karen Le Billion (HarperCollins/Morrow 2012) are among the first chefs to contribute recipes.
Vivi's Cookbook is one of many features designed to provide daily age-appropriate content to help establish healthy relationships with food, teach moderation and portion control, motivate and reward healthy choices, and create excitement about trying new foods.
Additional features include an interactive library of kitchen foods, terms, and tools served along with daily questions that encourage moderation and active play. The platform delivers the program in a few minutes a day.
Account holders can build their own pantry and cookbook, access coloring pages and activities, and use the Giggle Grower™ (an age appropriate tool that allows kids to log daily progress meeting minimum recommendations for activity, fruits, vegetables, calcium, protein, grains, water, and giggles).
"Our program fills a void because other wellness programs are designed for older children," said Jonelle Galuska, site co-founder and co-creator. "Our audience is too young to sort through and filter a collection of resources. We designed Vivi LeDish so parents simply log on with their child, spend a few minutes clicking through the program, and get on with their day. Teachers have told us it's a great design for classroom use as well."
According to fellow co-founder and co-creator, Nicki Mason, "The idea behind Vivi is to empower kids with life skills before health problems or unhealthy habits begin. My experience raising three kids is that a little creativity goes a long way. Parents can step away from those 14-step diagrams designed to disguise dinner - try catering to a child's imagination instead."
In addition to generating glowing reviews from fans and the design community, ViviLeDish.com has generated over 165,000 page views since launching the beta test which ended March 31. And it's attracting new visitors daily.
"We are currently seeking sponsors and partners from private, public, and non-profit organizations to help us maintain a state of the art platform where market leaders work together to educate and motivate healthy choices," said Galuska.
"We're parents who recognize society must be cautious about marketing to impressionable children. But rather than designing a site free of promotion, we think it's time industry leaders put their expertise to work helping us market healthy habits to children."
For more information, to schedule an interview, feature artwork, or discuss sponsorship opportunities, please contact Jonelle Galuska at galuska(at)viviledelish(dot)com or Lori Lynes at lynes(at)viviledish(dot)com.