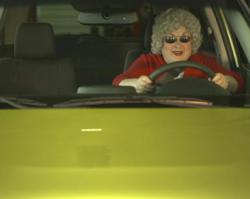 "It's not enough to throw out a great slogan. These spots need to define very specifically what 'nice' means for Dick Hannah customers. And in the age of DVR, the trick is to do it in a way that is entertaining enough so people want to watch the spots.
Portland, Oregon (PRWEB) August 02, 2012
Vancouver-based auto dealer Dick Hannah Dealerships recently launched a new branding campaign with a package of three television commercials that raises the bar for the Metro Area's regional advertising market. Produced by Margo Gilham of the Portland-based ad agency Go! Marketing these fresh, new branding spots written and directed by Creative Director Adam Klugman have been broadcast during the 2012 Olympics coverage to a nearly perfect "10" from viewers.
"We went through a year-long branding process," says Kent Van Arnam, Director of Marketing for Dick Hannah Dealerships, "and these are the first spots we've produced from the effort. We wanted them to have a big, national feel but still retain the kind of local warmth that makes our area so special. We think Go! Marketing has done that beautifully. And based on the feedback we're getting from the spots, so do a lot of people."
The center of the brand campaign is the slogan "Believe in Nice." Dick Hannah Dealerships, who employ nearly 800 people in the Portland-Vancouver area, sees a tremendous opportunity to capture a market position that not only builds equity, but also reflects the company's true core value.
"Here's the thing about Dick Hannah Dealerships," says Margo Gilham, Go! Marketing's owner and Executive Producer. "They really are some of the nicest people I've ever met. 'Nice' is who they are and it reflects in every aspect of their business model. That's why it's such a perfect market position for them."
"Kent Van Arnam and Dick Hannah Dealerships are a dream client," says Adam Klugman, Creative Director for Go! Marketing and the person responsible for writing and directing the new commercials. "Not only are they clear about what they want, but they are also willing to be deeply involved in the process. Kent is our client, but he is also a critical component of the creative and production team."
The result of this collaboration is a branding campaign and a package of spots with a broad, imaginative scope - everything from a NASCAR Grandma who receives a free set of tires, to a middle-aged husband who "surprises" his wife with yet another min-van, to a misdirected marriage proposal, but what unifies them is a playful, sketch-comedy approach and a disciplined commitment to staying on strategy.
"It's not enough to throw out a great tag line like 'Believe in Nice' and hope that everyone gets it," says Klugman. "We're using these spots to define very specifically what 'nice' means for Dick Hannah customers by highlighting programs and services. And in a DVR age where people can fast forward through the commercials, the trick is to execute in a way that is fun and entertaining so people actually choose to watch the spots."
"We're thrilled with the work Go! Marketing is doing for us," says Van Arnam. "Adam Klugman is not only extremely creative, he also has a broad skill set that only comes from years in the business working at the highest levels. And with Margo Gilham's extensive retail and automotive advertising background, we feel like we've got a gold medal team here. What's even more exciting is that we're just getting started."